Be a part of the audience for the Writers' Showcase, a live event featuring  writers and actors reading a variety of short fiction and creative non-fiction pieces written by Alaskans.  The  program will make its debut on December 12th at  7 p.m. in the new "@360" performance space at KTOO. The theme is "Holidays".  The program will be recorded for broadcast on 360 North Television and KTOO-FM.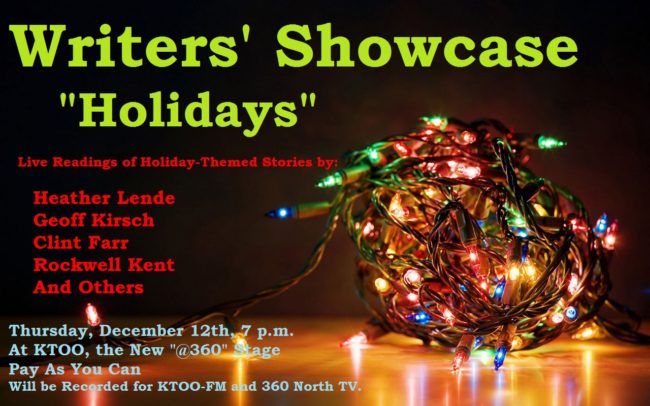 Writers Wanted for Future Shows

Of the approximate five selections in each program, producers are looking for three pieces from established writers, and two from aspiring writers. Submissions should be attached to a brief cover letter as MS Word documents and sent to writersshowcase at ktoo.org. The cover letter should explain the piece's theme and publication history and rights, if any. Small stipends are available to writers and readers as our budget allows.
Schedule (tentative)
Writers' Showcase: December 12, 2013 Holidays
Writers' Showcase: April 17, 2014 Awakenings
Writers' Showcase: August 21, 2014 Endurance
Writers' Showcase: November 26, 2014 Winter and Holidays
Join Us
Arts@360 is a new public television and radio series that focuses on arts, music, and culture. The series is produced and broadcast statewide by 360 North, and locally by the KTOO radio stations. Individual programs are recoded live on the new "@360" stage at the 360 North/KTOO studios in Juneau, Alaska.
Like the collective experience of watching a play or a movie at the theater, part of what makes Arts@360 special is our live audience. Some shows will be ticketed, others free or "pay as you can." All programs will be recorded for broadcast on 360 North Statewide TV and/or the KTOO radio stations, and may be webstreamed. The @360 studio space can seat approximately 80 people.