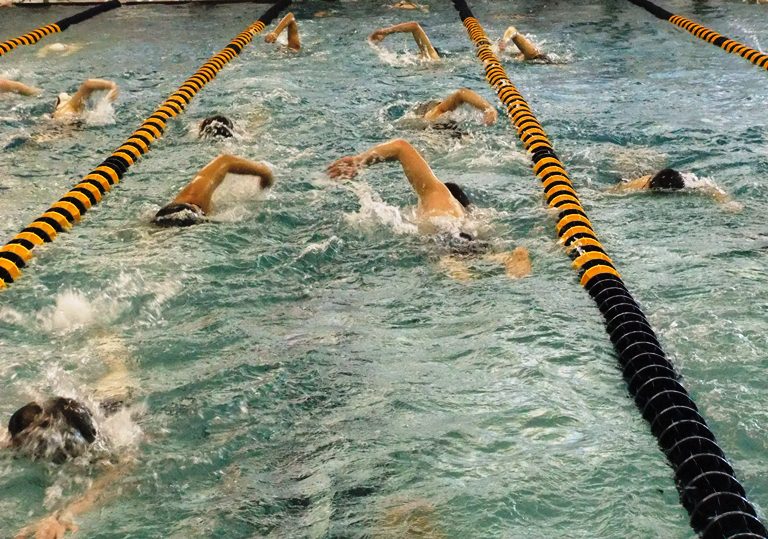 When Juneau's new Dimond Park Aquatic Center was still in the formative stages, the ability to host state high school statewide swimming and diving meets was a major selling point.
Pool requirements are different than the last time Kodiak High School swim coach John Lindquist was in the capital city  for a swim meet.
"My last state meet was in Juneau in 1980," when Lindquist was in high school.
That was at Augustus Brown pool downtown.  It is too small to host a state meet now, because pools must have at least 8 lanes,  a deck and audience seating. Until Juneau's new Dimond Park Aquatic Center opened in 2011, Bartlett High School in Anchorage had the only pool big enough to accommodate a state championship.  (Ketchikan recently opened an 8-lane pool.)
The Alaska School Activities Association accepted Juneau's bid for the 2013 Swim-Dive State Championship in January. But planning started when  the new pool was still in the development stage.  In fact, Glacier Swim Club's Max Mertz spent years working on the pool project. The ability to host such a meet was always a top selling point.
"Really it started back  in 2006-2007.  We told everybody we'd work to get the meet here. We started in earnest probably about two years ago. We wrote a proposal, presented it about a year ago to the ASAA board.  They bought off on it, decided to let us host it, so we've been kind of working it for the last year to put it on," Mertz said. 
More than 300 swimmers and divers, representing 25 Alaska high schools, came to Juneau for the state championship.  An estimated 200 parents and volunteers were here, too.
Isaiah Vreeman is state championships director for the Alaska School Activities Association.  He called it exciting to be able to hold the meet outside Anchorage.  Not only does a pool have to have eight lanes, "it has to have adequate deck space.  That's why Max and some of his crew put together this platform that you see on the deck, which is phenomenal.  It has to have a lot of seating," Vreeman said.
Home pool
Thunder Mountain  High School swimmer Trevor Jones appreciated the home pool advantage.
"Whenever we travel to Anchorage there's more than six teams from Anchorage and numerous teams in the Anchorage area where they don't have to go and stay in a hotel and be roomed out.  They can just sleep in their own bed and have homecooked meals. When you have home-field advantage that comes all to us, so that's just a huge deal for Juneau swimmers," Jones said.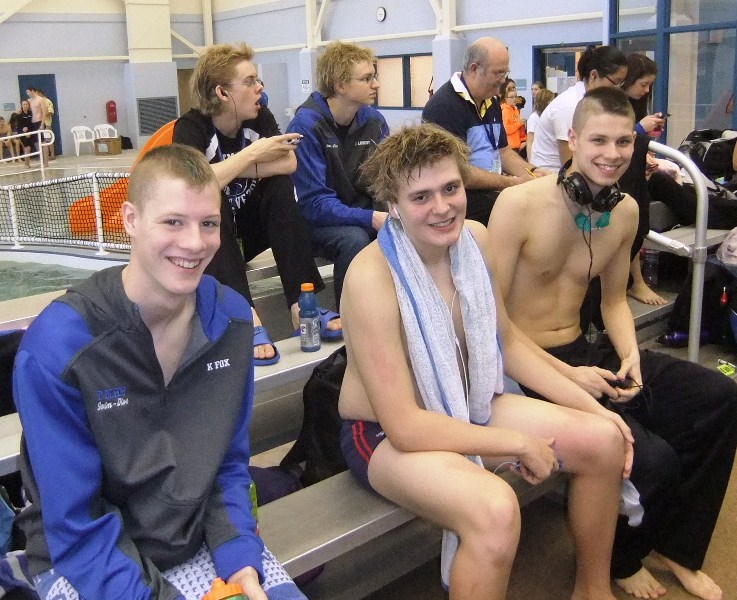 It did pay off for Juneau swimmers. Juneau Douglas High School girls edged out an  Anchorage team, Dimond High School, by three points to win the meet.
Jones and other Thunder Mountain swimmers Kenny Fox, Thane O'Brien, and Josiah Loseby placed second in the 200 Medley Relay.  The entire THMS boys team placed fourth in the meet.
A number of swimmers from both Juneau high schools had personal bests.
Training
When it comes to training, all the athletes spend hours in the pool each day.
"About 4 hours a day," said  Tahna Lindquist.  She and Ila Hughes swim for Kodiak High School.
"In the morning we swim and then after school," Hughes said.  The swimmers get to the pool at 6:15 a.m.
Jason Wilson coaches the Thunder Mountain swim team.
"You know what, people don't understand the type of work that swimmers and divers put in," he said. "We swim everyday six days a week."
Then there's cross-training after school every day.
"Sprints, squats, push-ups, sit ups and core work," Wilson said.
And weight lifting.  "On Saturdays we lift from 10 to 11," THMS swimmer Trevor Jones said.
Like most of the youth at the statewide meet, the 16 year-old has been swimming competitively for ten years.  He believes the hard work is worth it.
"Just the thrill of being in the pool and racing with other people and getting good times.  Everything about it is just a great essence."