Hikers, skiers, mountain bikers and snowmobilers are just some of the outdoor enthusiasts peacefully coexisting on Juneau trails every day.
Many trail users like to bring their dogs along for a hike, ski or ride. That sets up a potential conflict with an often overlooked user group in Juneau: Trappers.
The Alaska Department of Fish and Game and the Alaska Trappers Association this week held a community discussion at the Mendenhall Glacier Visitors Center to help dog owners understand trapping, and hopefully alleviate some concerns.
Fish & Game publishes a small booklet every year with the latest state and local trapping regulations. You should really know about three:
1.) The city of Juneau prohibits trapping within a half mile of any road.
2.) The federal government does not allow trapping within the Mendenhall Glacier Recreation Area.
3.) No trapping is allowed within 50 yards of a marked trail.
"It's important that we all recognize that we all have some responsibility in this," says Ryan Scott, Area Wildlife Management Biologist with the Alaska Department of Fish and Game.
Scott says trapping regulations in Juneau came about in 1987 when the Taku Conservation Society successfully petitioned the Alaska Board of Game to limit trapping to at least a quarter mile from all marked trails. That restriction was in place until 2008, when trappers asked for the 50 yard limit.
"The intent was to get younger people out there and give them an opportunity," Scott says. "The compromise that was reached, with a lot of discussion locally – there was a lot of input from the community of Juneau – was that we would go with, you had to be 50 yards off a trail and then you could start trapping. But they had to be off the ground."
Those traps are primarily to catch marten and other small furbearing animals, and are often hung from posts or trees. Larger traps for wolves, bears, and other animals that can be set on the ground, where a dog could encounter them, must be at least a quarter mile from a trail.
"As a dog owner, I'm conscious of how far I let my dog run, especially during the trapping season," Scott says. "Trapping season is open for some species already locally. The majority of them will open December 1st and then run through mid-February and some on in to April."

(Video courtesy Alaska Trappers Association and Alaska Dept. of Fish and Game)
In 2008, a basset hound named Bubba was killed in a Conibear trap that had been legally set along the Eagle River Trail. Scott believes the incident was the impetus for the 2008 compromise, and improved regulations.
"A terrible thing happened," he says. "But it also at the same time brought a whole bunch of people together, and I think that's how we got to where we are."
Local trappers say the incident also prompted them to increase outreach, and some were on hand at Wednesday's presentation to demonstrate their gear. Jesse Ross with the Alaska Trappers Association triggered one of the smaller traps on his hand.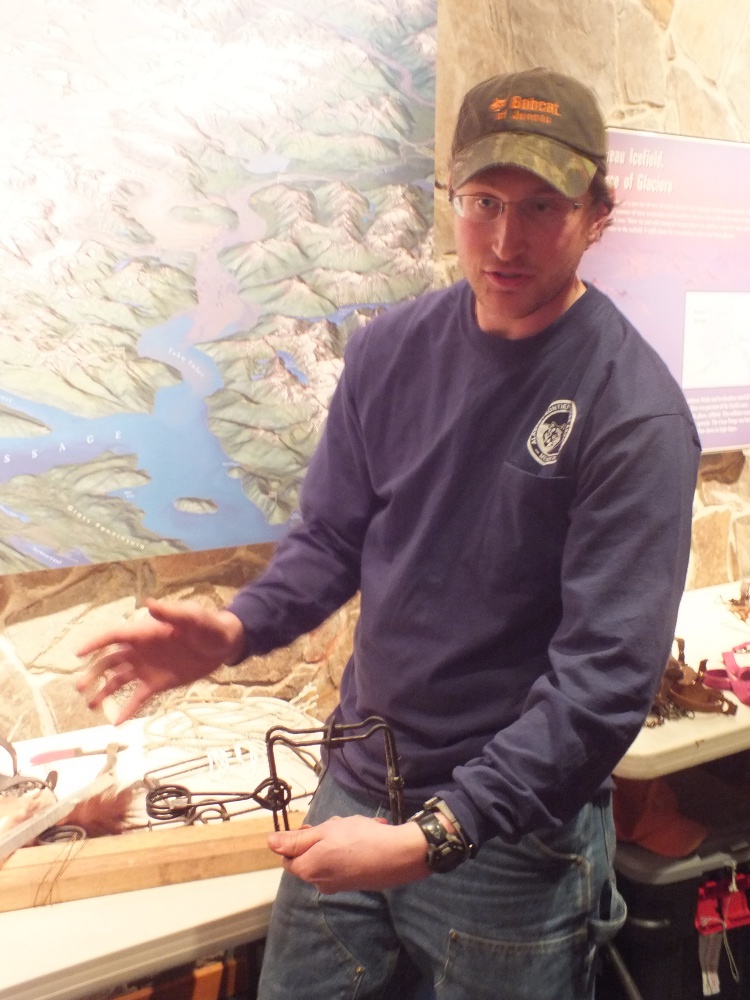 Ross has been trapping in the Juneau area for the past four years. It's an activity he enjoys, because he says it connects him to the outdoors.
"It's also a game in a sense, in that I have to outsmart the animal in order to catch it," Ross says. "Whatever that critter is I'm targeting. It's not easy like just going to the grocery store and grabbing something off the shelf."
Ross says non-trappers should familiarize themselves with the telltale signs of trapping. He says trappers often attach flags or signs to nearby trees, alerting others to the presence of a trap line. A snowshoe trail leading off a main trail is another indication.
For the most part, Ross says he traps in areas where there's not a lot of human traffic. A couple years ago, his yellow lab got his foot caught in a wolf trap. Fortunately, it only snared his paw, and because it was a trap with an offset jaw it didn't do much damage.
"It was a very emotional experience," he says. "Thankfully he wasn't hurt. I was able to release him and he recovered within 20-30 minutes."
George Utermohle is president of the Grateful Dogs of Juneau, a nonprofit that advocates for responsible dog ownership. He says every dog owner should know the risks of walking a dog on a particular trail, whether it's trapping, wild animal encounters or something else.
"Trappers, dog owners, skiers, everybody, we're all out there using the public trails and areas simultaneously," Utermohle says. "We need to watch out for each other. It's everyone's responsibility to take care of themselves and make sure they are not posing a hazard to other people."
Fish & Game estimates about 24 trappers operate in the Juneau area, most of them recreationally. The department last hosted a community presentation on sharing trails with trappers after the 2008 incident that killed Bubba the basset hound. Scott says he would turn it into an annual event, if there's enough interest. The department also is working on a pamphlet that shows how to release a pet from a trap or snare. It will be available on Fish & Game's website soon.