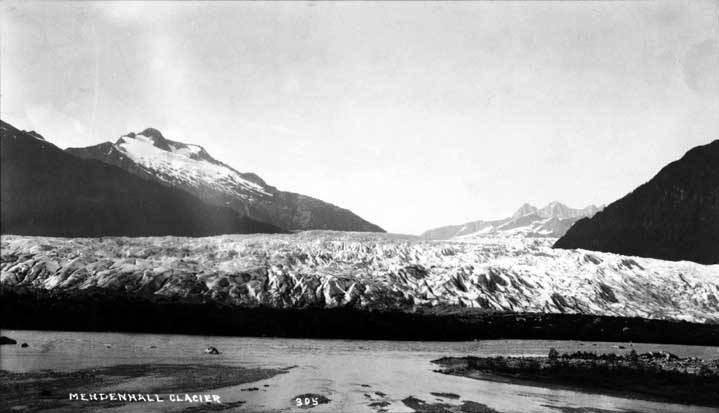 "There are major environmental changes that are shifting the landscape in Alaska. So, (that means) big changes to Alaska's fresh water systems and coastlines.
With that introduction to her presentation, Anne Beaudreau of the University of Alaska-Fairbanks' School of Fisheries and Ocean Sciences at Juneau's Point Lena facility began her presentation on her team's emerging research to determine the potential effects of such changes on fish and invertebrate habitat in glacial-fed streams. She briefed participants during this week's Southeast Alaska Watershed Symposium in Juneau.
"In Southeast Alaska, one of the biggest changes we're seeing is glacier volume loss and recession. So, here's an example of pretty close to home," said Beaudreau as she showed a pair of slides demonstrating the Mendenhall Glacier's dramatic retreat between 1894 and 2008.
Over about a hundred years, this glacier receded 2800 meters. That's a lot of landscape change. A lot of times the affects of glaciers are thought of as imposing this change on the terrestrial environment and creating new streams for fish, for example. But all of that water is going somewhere and it's ultimately ending up in the Gulf of Alaska. Glaciers in Southeast Alaska are contributing quite a lot of fresh water to the marine system."
Beaudreau said the Southeast Alaska watershed is producing more runoff than the Yukon River watershed and almost as much as the Mississippi watershed. Much of it in Southeast Alaska is glacial runoff, or very cold water.
So, one question we might ask is whether colder temperatures in the estuaries are contributing to lower growth rates of fish"
It may also be very turbid water.
With increasing sediment concentration, fish are showing a longer response time to the prey that are introduced to them. So, potentially high turbidity could compromise fish foraging."
But that water may also carry a lot of nutrients and organic material downstream that could be food for fish.
This potentially could increase productivity in the estuaries."
Beaudreau plans spring, summer, and fall sampling over two years to account for seasonal variations. Beach seines will be used to capture specimens, and the contents of their stomachs and stable isotopes will be examined. That will help determine the amount and type of carbon and other nutrients that the fish and invertebrates are ingesting. Beaudreau said that a round of preliminary sampling was already done in August and September.
Beaudreau said they picked three Juneau-area rivers which are different combinations of glaciated, and forested or rain-fed watersheds. Cowee Creek at the north end of the mainland road system, for example, is predominately a forest watershed with a small glacial influence. Eagle River is nearly half-influenced by glacial run off while Mendenhall River is predominately glacial runoff.
We expect to see differences among these sites, but there's a lot of other things besides glaciers that are contributing to those differences. We're not going to be able to say that these differences are due to glacial influence. But it's just a start to see what's there and how much variation exists."
Beaudreau said a high abundance of herring has already been found in Cowee Creek, plenty of starry flounder and returning pink salmon in August at Eagle River, and buffalo sculpin in the Mendenhall River.
Two of the big players in Juneau estuaries are staghorn sculpin and starry flounder. I hate to disappoint you, but there's a ton of them! They were consistently found in almost every beach seine set, across sites, and across months. They're actually going to be really important in terms of our diet study because we're going to be able to consistently collect diet samples across all of these different sites and seasons."
Beaudreau said the pilot program is just getting underway and is meant to determine a baseline for future research.
In responding to a question from a symposium participant, she conceded that the project does not yet include a survey of stream bed or submerged vegetation.
Beaudreau provided an overview of her team's project on Tuesday afternoon during the Southeast Alaska Watershed Symposium that is underway this week at Centennial Hall.