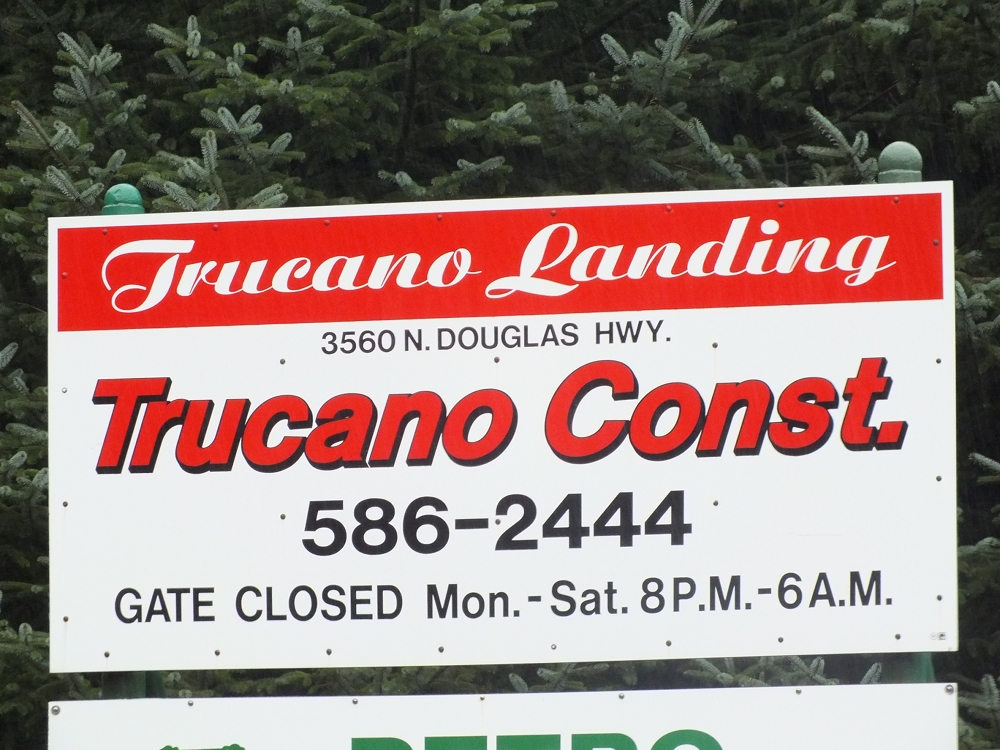 Non-union contractors are striking back at the City and Borough of Juneau's policy supporting Project Labor Agreements.
While the policy does not require the city to work exclusively with union shops, PLA opponents are concerned it limits their ability to bid on certain work.
Trucano Construction has done a number of Juneau dock projects, including the drive down float at Auke Bay, reconstruction of Harris Harbor, and decking along the downtown waterfront. Owner Doug Trucano says his company has the only marine construction complex in town, located on North Douglas waterfront property he leases from city's Docks and Harbors Department.
"We can bring our barges in here, we can load our cranes, and do our work," Trucano says. "Nobody else in Juneau has ever pursued that."
Trucano runs a non-union shop. He says it's a personal choice and he has nothing against unions.
Now he's worried a city policy promoting the use of Project Labor Agreements will make it harder for his company to get work. The Juneau Assembly unanimously reaffirmed the policy at a meeting last week. Assembly members also requested the Docks and Harbors Department rethink a recent decision to issue a bid for two floating cruise ship berths without a PLA.
Trucano believes that will set a precedent for future projects.
"They put a PLA on this job, it's gonna go right on down the line to all marine work," Trucano says. "All the harbor jobs and stuff that's come out will all have PLAs on them."
Trucano isn't the only one frustrated with the city. Anchor Electric owner Bill Shattenberg said in an email that "PLAs are a way for unions to narrow competition on bid day and bolster their local retirement plans."
That echoes Trucano's major concern that his employees will be forced to join a union in order to work on a PLA project.
"First your employees have to join the union, then you got to buy the medical insurance, which we're seldom ever there long enough for anybody to capitalize on it, you got to pay in their pension funds, you got to pay into their apprenticeship programs and all that," Trucano says. "Where, I pay the same wages, the same dollar amount, but my employees get to take all that home with them."
Trucano and Shattenberg also say there's no evidence to support the claims of PLA supporters that the agreements improve work quality, on-time performance, local hire, and the use of apprentices. Both say they're unlikely to bid on any project that includes a PLA.
Trucano says his company is too small to be the main contractor on the cruise ship dock project. But he says some companies expected to bid on the main contract have contacted him about subcontracting.
"We could still do the work, it's just whether the people who work for me would want to join the union and give their wages to the union, rather than take them home and spending them on their families," he says.
Assembly member Jesse Kiehl says he discussed the issue with Trucano last week, and they agreed to continue talking about it.
"I'm a little bit sympathetic to folks who aren't part of union already, and who feel that they don't get the maximum benefit from those contributions," Kiehl says. "So, that's something that definitely needs to be part of the conversation."
Kiehl says not every city project will have a PLA, but the policy says they are preferred when there's some clear benefit to the public.
"Some of those might be reducing shift differentials or holiday pay, so it's easier to schedule the work and easier to bring the project in on time. Unforeseen things happen, and if you have more flexibility then you're able to adjust to those," Kiehl says. "Another might be in projects with multiple different trades and crafts you can have one point of contact."
Assemblyman Randy Wanamaker, chair of the Public Works and Facilities Committee, hopes to begin work next week on formalizing the city's PLA review process. Wanamaker thinks projects should be reviewed by a panel of city employees, rather than the current practice of having department heads determine if an agreement is warranted.
"The city engineer would be one person. Somebody from [the Law Department] would be another person. And somebody from the appropriate department – whether it's Airport, the school district, Docks and Harbors – whoever is the facilities type of person for that particular department."
Unions have praised the Assembly's decision to reaffirm its support for Project Labor Agreements. Labor officials say independent, non-union employees who work on PLA jobs do utilize the medical and retirement benefits provided to them.