In Barrow at the top of the world, receding sea ice is reshaping life. University of Alaska Fairbanks freshman Nelson Kanuk thinks the state is obligated to combat atmospheric climate change. He argues the atmosphere is a public trust to be preserved for future generations, like clean water or navigable waterways.
Kanuk sued the state last year when he was a senior at Mt. Edgecumbe High School in Sitka. The lower court dismissed the case, but on Thursday the Alaska Supreme Court is taking it up on appeal. As part of the educational outreach program Supreme Court LIVE, the courtroom will be Barrow High School's auditorium. The case is Kanuk v. the Alaska Department of Natural Resources.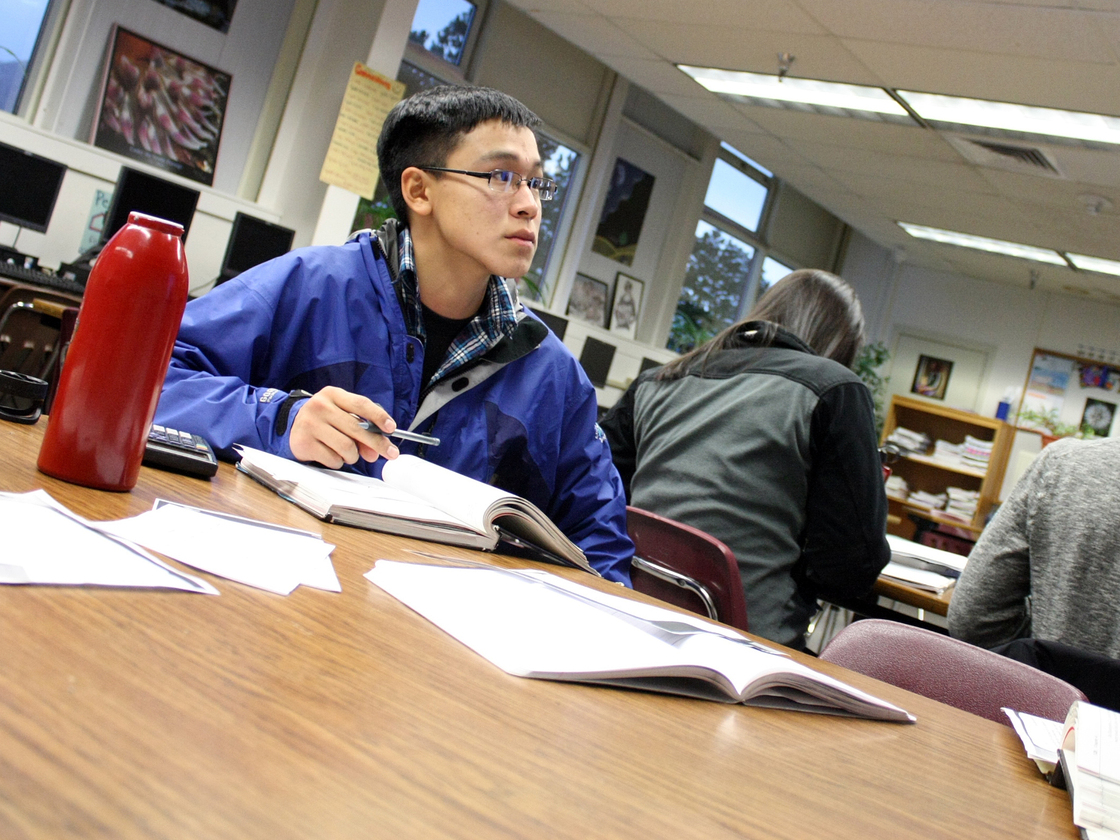 School officials and local attorneys have been helping students cram on the justice system, the case, even court etiquette and how to dress.
Local lawyers' take
Robert Campbell spent Monday briefing Barrow High School students on Nelson Kanuk's climate change case.
Campbell graduated from Barrow High in 1989 and said he's the only private practice lawyer north of the Arctic Circle, and one of about five lawyers in the area; they've been discussing the case.
"Generally, the consensus is, is that the court's going to find it to be a political question and not answer it, that there's just not a real easy solution for the court to implement," Campbell said.
Whether climate change is a "political question" is one of three issues the Alaska Supreme Court's decision hinges on.
"There's a general scientific consensus, but there's not a political consensus. And without a political consensus, it sometimes, courts are not real comfortable jumping in and wading into those arenas, unless they absolutely have to. And there's no sense that they have to, absolutely have to, so they'll probably go ahead and reserve that for the individual state legislatures to, to enact. And that's probably what's going to happen."
Campbell said the students he spoke with had almost universal concern about climate change, and felt the government should be at least somewhat responsible.
The apparent effects of climate change are stark in Barrow. Campbell said where historically there'd been sea ice, there was briefly open water this past winter.
"I mean, that was something I've never, ever seen in, in the 20 plus years or whatever I've spent up here," he said.
"The biggest challenge, frankly, is how in the world are we going to manage all those cell phones?" Principal Bev Gillaspie said.
Her auditorium can hold 285 people. Between students, staffers, and guests, it'll be standing room only.
"Everyone who goes into that facility will be wanded," she said. "We figure it will take us about an hour just to get everybody through security, and into the seats so that we can begin the process of hearing the court case."
State troopers and local police, about a dozen altogether, will handle security.
The plaintiffs' attorney, Brad DeNoble, said Barrow is a fitting choice.
"You know, it's interesting cause, Barrow has, gosh, of all places, Barrow is being hit one of the hardest with climate change," DeNoble said. "You know, they've got a very vested interest in, in, in the outcome of this."
The case itself hinges on three questions:
Does the state have an obligation to protect the atmosphere?
Does the judicial system even have jurisdiction, or is this exclusively the domain of the legislative and executive branches of government?
And, do Kanuk and fellow plaintiffs have standing? That is, a personal interest and injury that the court can address?
Kanuk plans to be there. He said he was surprised the court agreed to hear his appeal after courts elsewhere dismissed similar cases. The Oregon-based nonprofit Our Children's Trust helped Kanuk and other young people file suit in at least nine states and against the federal government.
Kanuk is optimistic something positive will come of this.
"Well, (I'm) keeping my fingers crossed," he said.  "And, hopefully that we get moving forward with forming some kind of climate reaction policy, both at, you know, the state legislative level and also the federal level as well."
Assistant Attorney General Seth Beausang, who's arguing against DeNoble, says he's confident.
"This case is a novelty, and I think, I think the plaintiffs even make that, you know, clear in their briefs, as well," Beausang said.
For classroom and case materials, visit the Supreme Court LIVE page.
Gavel Alaska is tentatively planning to provide a live webcast of the Supreme Court's hearing beginning at 12:30 p.m. Thursday at 360north.org. This story was updated with the sidebar.