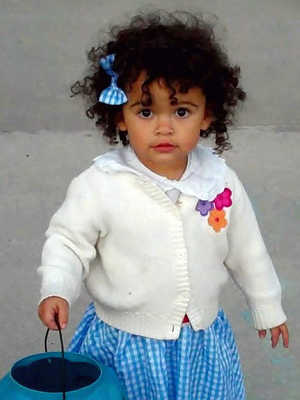 The "Baby Veronica" case has gone through multiple dramatic twists, and today, the Oklahoma Supreme Court handed down another one: The court lifted an emergency stay, opening the door for the now-4-year-old girl to be returned to her adoptive parents.
If you remember, the case is about a Native American girl who was adopted by a couple in South Carolina but who has been living with her biological father for more than a year and a half.
"The dispute appears far from over, and the tribe issued a statement indicating 4-year-old Veronica would likely remain in the Cherokee Nation. She has been living there with her father, Dusten Brown, and his family since she was 2 years old.

"Before that, Veronica lived with a South Carolina couple who had taken custody of her shortly after her birth. Her adoption to that couple, Matt and Melanie Capobianco of South Carolina, was finalized earlier this year, and Brown had appealed Oklahoma court orders certifying the adoption."
The case is complicated and emotional and came to national prominence when the Supreme Court decided Veronica should go to her adoptive parents. The case involves fundamental questions about parental rights and Native American autonomy.
In July NPR's Nina Totenberg recounted how she ended up being taken from her adoptive parents:
"Eighteen months ago the South Carolina Supreme Court ordered 2-year-old 'Baby Veronica' removed from her adoptive parents, Matt and Melanie Capobianco, and turned over to her biological father, Dusten Brown. The Capobiancos had adopted the child at birth, and provided what all agreed was a good home. The state court said it was acting reluctantly in transferring custody but was required to do so under a federal law aimed at keeping Native American families together."
And she explained the high court decision:
"The U.S. Supreme Court ruled that since Brown, the biological father, had refused to provide financial support for the biological mother and child when told of the pregnancy — and because he had renounced his parental rights at that time — he could not later object to the adoption. The high court rejected Brown's argument that the Indian Child Welfare Act trumped state law in such circumstances."
The Oklahoma Supreme Court had issued an emergency stay of a lower court ruling to allow some time for mediation between the father and adoptive parents. Those negotiations failed and it looks like the case is now at an impasse.
The Native American Times reports:
"The failed mediation now means the case will go before the state's Supreme Court, but apparently the Cherokee child might not be staying in Oklahoma while the appeals continue. The stay was initially issued on Aug. 30 after a Nowata County district court judge upheld a South Carolina adoption decree that awarded custody of the girl to the Capobiancos.

"However, Veronica and her immediate family are currently living on trust property adjacent to the Cherokee Nation's tribal complex in Tahlequah, which means a court order from either the Cherokee Nation or a federal court may be needed to remove the girl."
Update at 8:58 p.m. ET. Baby Veronica Is With Adoptive Parents?
The Tulsa World reports that its sources are telling them that Baby Veronica has been handed over to her adoptive parents.
The paper reports:
"The child's transfer of custody has not been confirmed on the record by Cherokee officials or any family members.

"Dusten Brown's attorney, Clark Brewster, confirmed that the Brown family was negotiating the possibility of giving up the girl late Monday.

"With supporters gathering near the scene, Cherokee Nation marshals are stationed at intersections, with media and about 20 onlookers — some with signs of support for Brown — being kept about 100 yards away from the house."