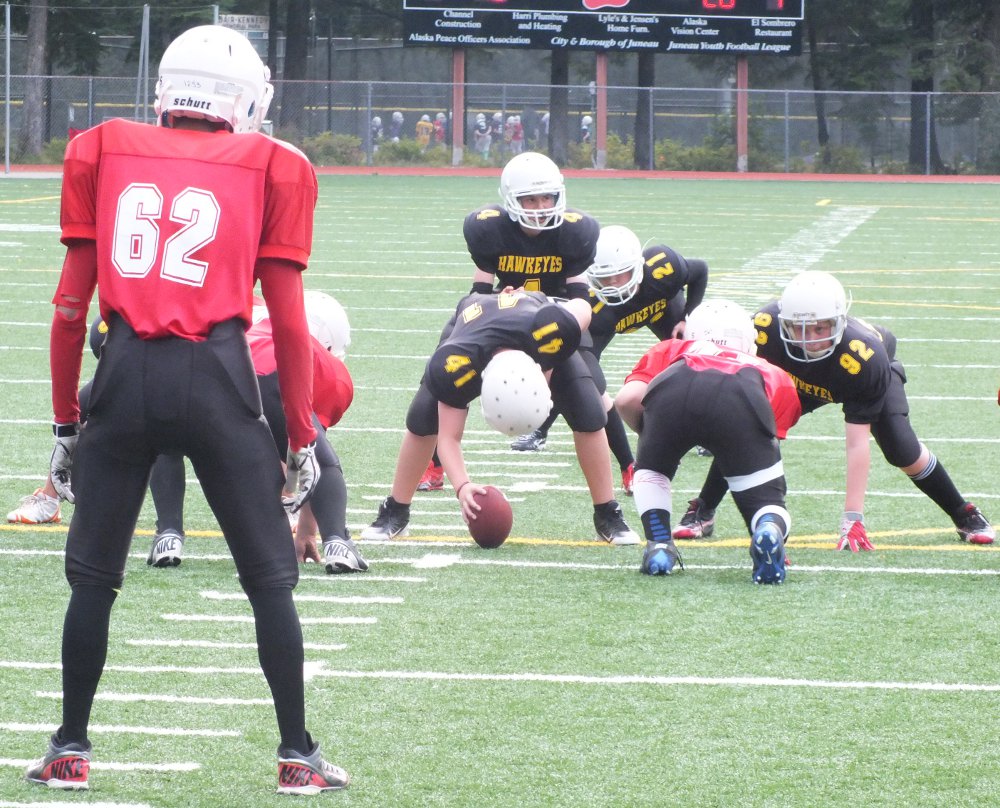 It's football season in Alaska.
The sport continues to gain popularity in the 49th state, where the first official high school football championship game was played less than 25 years ago.
But in Alaska and nationally concerns over football's safety have grown, and more and more parents are refusing to let their children play youth football because of the risk of injury. Football officials at all levels have responded by trying to make the game safer.
KTOO's Casey Kelly recently talked to coaches and players with the Juneau Youth Football League to find out how they are approaching the problem.
Juneau's Dimond Park Field House is swarming with nearly 150 six- to 14-year-old football players wearing their brightly colored team jerseys. They run around on the turf, tossing footballs, and, of course, trying to tackle each other. That is, until a coach summons them to the middle of the field, where he introduces former NFL Quarterback Jake "The Snake" Plummer.
"You guys like to play football, right?" Plummer asks.
"Yes!" the kids yell back.
Plummer: "You want to play for a long time?"
Kids: "Yes."
"All right," says Plummer. "Then the key tonight is to listen up and to pay attention when your coaches go through these drills."
At 6'2″ and 215 pounds, Plummer still looks fit enough to play, even though he took his last snap for the Denver Broncos in 2006. After he became a coach, he says he realized young players today are not being taught proper techniques. Specifically, too many players are learning the wrong way to tackle.
"Don't use that helmet as a weapon," Plummer says. "That thing is there to protect you. That's like a shield, that's not your sword. That's a shield that will protect your head from getting injured."
Plummer is now an ambassador for USA Football, the official youth development organization of the NFL and its players association. Juneau Youth Football League Director of Coaching Brandon Mahle says JYFL became a full-fledged member of USA Football this year to take advantage of its certified training programs.
"You get online, usafootball.com, and they have certifications from tackling to flag football," Mahle says. "They complete their certifications, give them to me, and then they're eligible to coach for the season."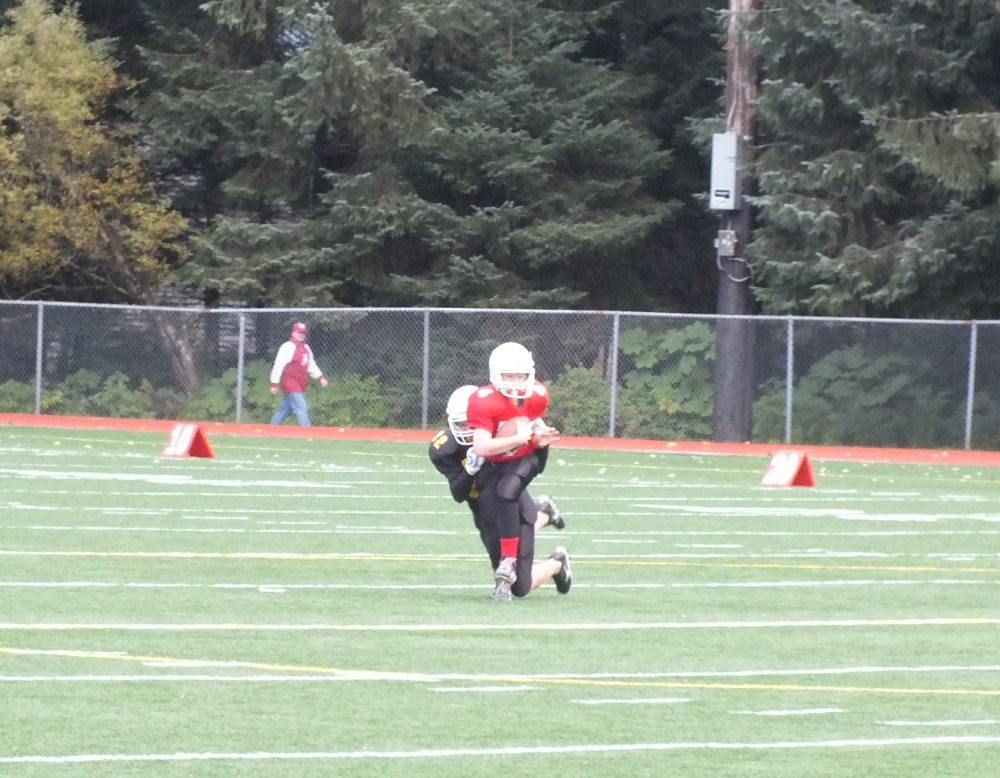 During his visit to Juneau, Plummer led a clinic on Heads Up tackling, which teaches players to keep the crown of the helmet up and their eyes on the player they're trying to take down. The idea is to limit injuries, like concussions or stingers, which is basically a pinched nerve in the neck.
Mahle says JYFL coaches have also gone to a limited tackling policy in practices. He says many NFL and college teams have similar policies.
"They have found that you can go what's called 'thud level,' which is hit to contact without taking kids to the ground," Mahle says. "That you can achieve the same level at practice as you could hitting to take kids to the ground. And you have much less injuries in the process."
Juneau youth football coach Krag Campbell says some parents are skeptical of limited or Heads Up tackling practices. But overall he thinks it's a positive step.
"You see some people going against it, because they were always taught hit low, hit low, this diving tackle," says Campbell. "So, it's trying to change that perception. And it just takes time. And I really see the biggest benefit we're going to see is the younger kids growing up."
Mike Carriker's son Noah plays for the Seahawks of the Cubs Division. As a parent, he applauds the new emphasis on safety.
"I was really hesitant – didn't want him involved, worried about injuries," Carriker says. "But he was persistent. And that last month it was every day: 'Daddy can I play? Daddy can I play?' So we gave in. But knowing that they were doing a lot to prepare kids and have them do things right to try and prevent injury was kind of one of the things that helped us make a decision."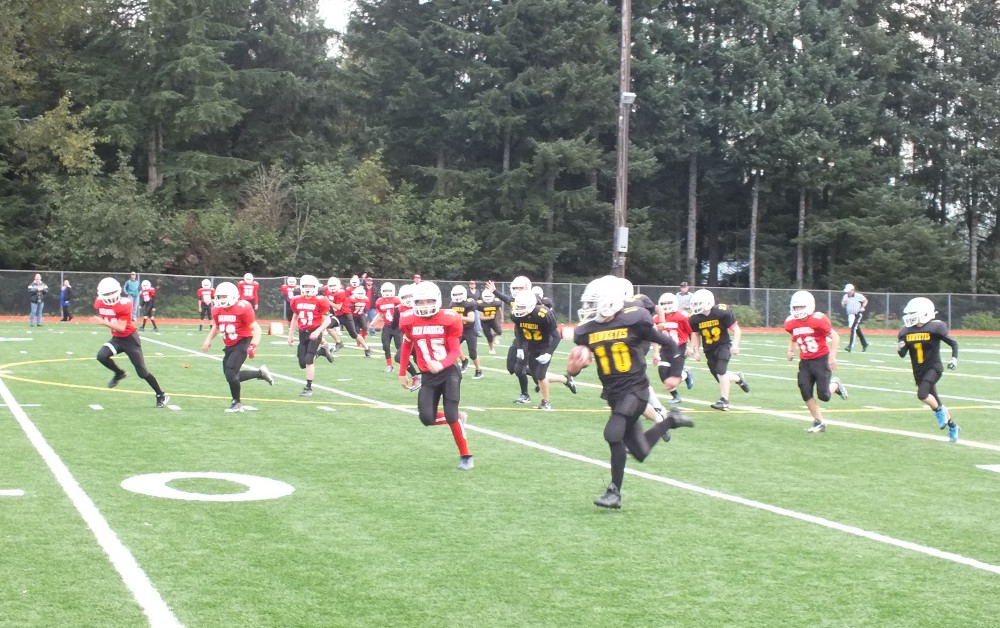 Heads Up tackling is on full display at a recent game between the Senior Division Hawkeyes and Red Raiders. Hawkeyes quarterback/running back Liam Van Sickle says he's never had a concussion, and he hopes Heads Up tackling means he never will.
"I think it's just as effective and it's a lot safer," Van Sickle says. "I've had people on my team get like stingers and stuff. I think this is a good way to help prevent that."
Most importantly, Van Sickle says the new focus on safety won't change the way he plays:
"I like to lower my shoulder and stuff and this way I won't lower it into their helmet. It will be a nice clean hit."
Jeremy Hsieh contributed to this report.