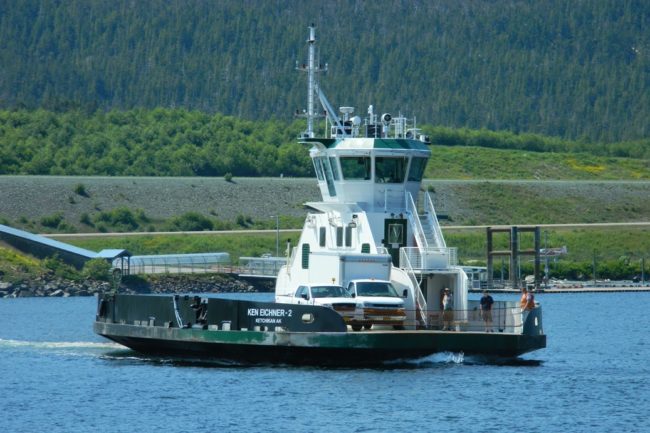 The Ketchikan Gateway Borough Assembly decided Monday to back off its longstanding endorsement of a bridge to Gravina Island, and instead opted to support improved ferry service. The project had been the subject of criticism in 2005 as wasteful government spending with critics labeling it the "bridge to nowhere."
In a 5-2 vote, the Assembly directed Borough Manager Dan Bockhorst to submit comments to the state Department of Transportation endorsing Alternative G4, which calls for new ferry ramps and improved facilities next to the existing ferry terminals. Assembly members also asked Bockhorst to prepare a resolution mirroring those comments, and ask the state to extend the comment period.
At this point, DOT is accepting comments through Aug. 13 on the Gravina Access project's Supplemental Environmental Impact Study, released last month. The options include two bridge designs and four ferry plans.
During the Assembly's public comment, Don Westlund detailed problems he sees with the proposed bridge Alternative F3, which calls for two spans, a low bridge from just south of city limits to Pennock island, and then a high bridge from Pennock to Gravina.
Westlund says the west channel, which would have the high bridge, is not suitable for large ships because of reefs, areas with shallow draft, and other obstacles. He says the second proposed bridge alternative, C3-4, would create possible airspace conflicts.
"On marginal days, they said if the bridge is in the airspace, you wouldn't have a plane landing, and we have a lot of marginal days," he said.
Westlund says DOT needs to have another public hearing in Ketchikan, and not in the summertime when everyone is busy. He also wonders why the idea of an underwater tube was not explored.
Eric Muench also spoke during public comment, and says the Assembly should continue to push for a bridge. But, he says, because of Gravina's low level of development now, a bridge won't score well for funding. He suggests that the community ask for some ferry improvements now, and a bridge later.
Doug Ward and Len Laurance both asked the Assembly to continue its endorsement of a hard link – a bridge – rather than more ferries.
Later, Assembly Member Mike Painter started the Assembly discussion of the issue. He says it's unlikely that Ketchikan will ever get a bridge:
"Uncle Ted is no longer with us. Gov. Frank is no longer in office. Our best time for a hard link access to Gravina has come and gone. It did get started; we did get the Gravina Highway; it looked like it was going to happen. But politics as they may be, the moon and the stars are no longer in alignment."
Painter says he would like to see a better ferry system, with redundancy built in in case of equipment failure. He adds that an endowment fund to help pay for maintenance and operations of the ferries would make sense.