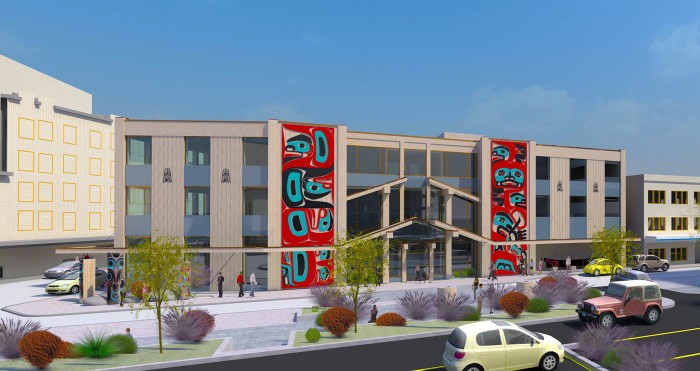 A Southeast Alaska cultural organization has hired a contractor to build a large Native arts and education center in Juneau.
The Sealaska Heritage Institute announced Monday that it awarded the contract to build the Walter Soboleff Center to Dawson Construction.
The contractor is headquartered in Bellingham, Washington, with an extensive history of work in Alaska.
Institute Project Manager Lee Kadinger says the bid process began with about a half-dozen contractors.
"We scored each of those proposals and selected the top three to move on to develop a full bid proposal. I guess you have the cream of the crop by doing it in that fashion," Kadinger says.
Dawson's contract is for $14 million.
The Soboleff center is estimated to cost $20 million, including land, design, artwork and furnishings. Officials say they've raised about three-quarters of that amount.
The center will be a 29,000-square-foot, three-story building in downtown Juneau, across the street from Sealaska regional Native corporation's headquarters.
Kadinger says Dawson must follow Alaska-preference rules, since some of the funding comes from the state.
He also says the contractor must try to hire Alaska Natives.
"There's not a requirement to use (a certain) number. However, there is language in there encouraging Native hire on the project," he says.
Ground-breaking is scheduled for later this month.
The center is named after the Rev. Dr. Walter Soboleff, a Tlingit cultural, political and spiritual leader who died about two years ago.
It will house education, arts and language programs, as well as the institute's archives and collections, and heritage institute offices.
Dawson Construction's many regional projects include a shop for Ketchikan's shipyard, veterans' housing in Haines and a cultural heritage center for Klukwan.