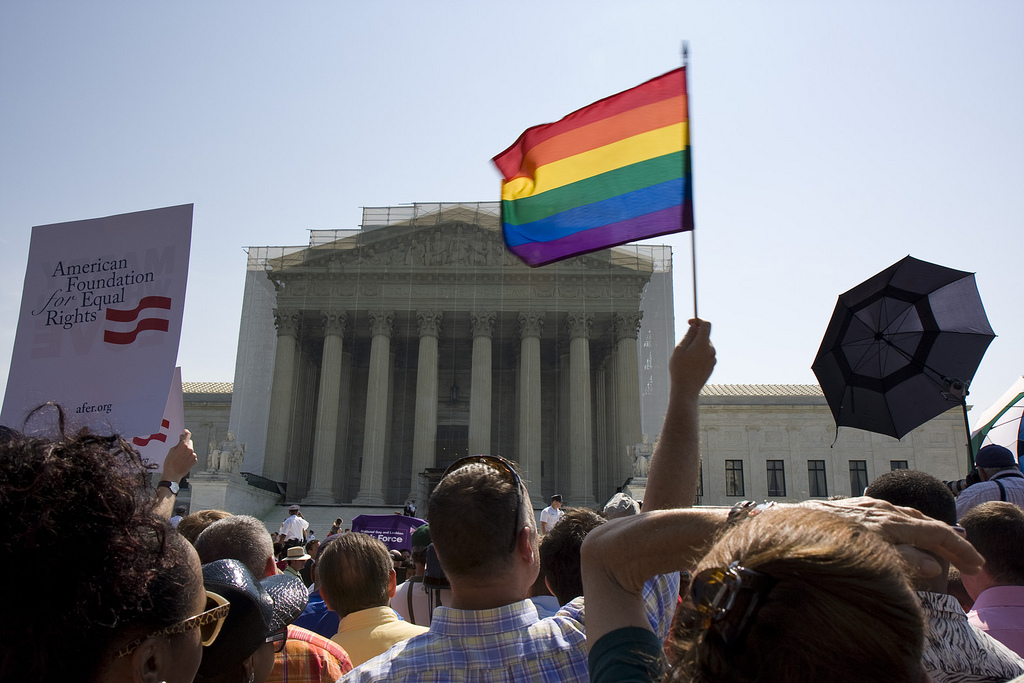 The U.S. Supreme Court ended its term striking down the federal Defense of Marriage Act and sending a California same-sex marriage case back to the lower court. But the court does not affirm gay marriage as a constitutional right.
In writing the majority opinion Justice Anthony Kennedy said "DOMA writes inequality into the entire United States Code." (Here's a breakdown of key parts of the opinion by NPR)
DOMA controls more than a thousand statutes and numerous federal regulations pertaining to Social Security, housing, income taxes, and other benefits available to heterosexual married couples.
Kennedy said its "principal purpose is to impose inequality," so in ruling DOMA unconstitutional, legally married same-sex couples would be eligible for federal benefits.
"In neither case, does the court say that there is a firm constitutional right for people of the same sex to get married."
University of Alaska Justice Center Professor Jason Brandeis calls Justice Kennedy's opinion a criticism of a "mean-spirited law."
"It was intended to relegate same-sex couples to a level of being second class citizens and the impact that could have on their families and their children seems to be a part of his decision making process."
Kennedy's opinion also makes it clear that federal recognition and benefits would only apply to couples married in states that have legalized same-sex marriage.
Constitutional amendments in 29 states limit marriage to heterosexual couples. Alaska was the first to do so in 1998.
"After today about 1/3 of Americans live in a state that offers marriage equality," says Joshua Decker.
Decker is with the Alaska ACLU.
"We're really happy about this because with the Defense of Marriage Act case, Alaskans who get married outside and come back to Alaska are now able to have the thousands of federal benefits that apply to married couples, apply to them."
It is likely states that ban gay marriage will become battlegrounds over the issue. Decker says Alaska may well enter the fray.
Both Alaska's U.S. Senators applauded the Supreme Court's DOMA ruling. Senator Mark Begich called it a "victory for individual rights."
Senator Lisa Murkowski officially announced her support for same-sex marriage last week. After the court's ruling, she said the federal government should empower households, respect the decisions of states and otherwise get out of the way.
Jim Minnery with Alaska Family Action says the Supreme Court is respecting states' rights in the DOMA decision.
"It's very clear that Alaska's still in the driver's seat with how we define and regulate marriage."
But Minnery says the discussion has just begun.
"Alaskans need to stay engaged on the issue of marriage because Justice Kennedy, who wrote the majority opinion, basically acknowledges in no uncertain terms that states have the right to define and regulate marriage."
Minnery said organizations like the Family Action council will do their part to make sure Alaska marriage remains limited to "one man and one woman," as the constitution states.
Professor Brandeis believes a clear line can be drawn from the movement for racial equality to equality based on sexual orientation. History shows such movements take years, but Brandeis believes public opinion is shifting significantly on the issue of same-sex marriage.
"I think that people that are in charge of making laws that are consistent with the United States Constitution and state constitutions and have a responsibility to their constituents really need to take a step back and think about what side of history they want to be on."
Related Stories:
DOMA declared unconstitutional
Alaska couples await Supreme Court decision on DOMA, Prop 8