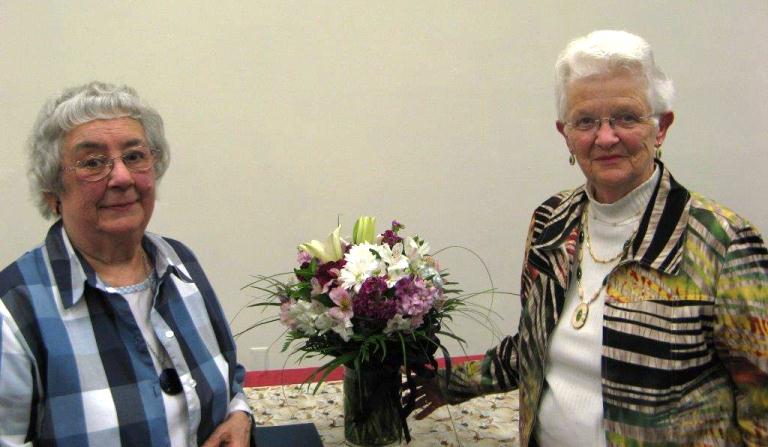 Juneau's Marie Darlin is 88 and still advocating for causes she's worked on for years – including services for senior citizens.
Darlin was honored Wednesday night by the CBJ Assembly at a meeting she helped organize to discuss an assisted living facility for the capital city.
She also was surprised at the recognition.  Mayor Merrill Sanford delivered the  proclamation, which aptly describes her energy and passion for volunteering.   Sanford said Darlin's  "volunteering in organizations that make Juneau and the entire state of Alaska better places to live make her an exemplary model for all citizens to follow."
Darlin belongs to the fastest growing segment of Alaska's population – senior citizens.
She's well beyond the baby boomer group.  The first of that generation started turning 65 in 2011.
"A lot of them moved up to Alaska, which means that Alaska actually has the fastest growing senior population of any state," says MaryAnn VandeCastle, chairman of the Juneau Commission on Aging. Darlin is one of its most active members.
The Commission on Aging has joined with Juneau Community Foundation, Juneau Economic Development Corporation and Senior Citizens Support Services to come up with a plan for an assisted living center.
The idea has been discussed for years and nothing has happened.  But 110 people attended Wednesday's meeting, including officials from state of Alaska senior programs, legislators and Assembly members, folks over and under 65, and adults concerned about caring for aging family members.  Organizer Sioux Douglas says it's a good cross-section of Juneau for a topic that needs community balance.
About 45 people signed up to serve on a task force. Douglas says they will be contacted to reaffirm their interest.
The city has little support for elderly people who need special services, but not full-time care.
Alaska Pioneer Homes, including Juneau's, offer assisted living, but the waiting lists are long.  Wildflower Court near Bartlett Regional Hospital is 24-hour nursing care. Independent senior housing is offered at Fireweed Place and Mountain View Apartments downtown, and Smith Hall in the Mendenhall Valley.
Assisted living facilities are an intermediate level of care for seniors who need help with medications, meals, housekeeping, bathing or dressing, exercise and other daily routines, but not nursing care.
Douglas says the task force should be comprised of people who are strong community stakeholders, including developers,  builders, philanthropists,  businesses, and citizens who anticipate the need for assisted living for themselves or family members:
"So we want a really good cross-section of folks willing to stick with this project until its completion. And we know it's in the community. We have a wonderful, generous, talented and smart community. There's no reason why we can't do this.  It's just a matter of pulling  the right resources and people together to make it happen."
Douglas says the best option could be a collaboration with an organization that operates assisted living facilities elsewhere.  She hopes an assisted living center is reality in Juneau within a couple of years.