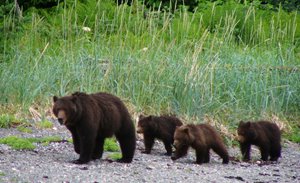 Recent black bear activity in the Auke Bay bypass area near Auke Rec has prompted Fish and Game to warn people to beware of the bear family frequenting that location. Area Management Biologist Ryan Scott says it's causing problems.
"We've got a pretty regular family of bears – a female with three cubs – that are foraging along the side of the road and what we're seeing is we're really running into some traffic problems. So what I'm hoping to do is encourage people not to stop."
If people do decide to stop, Scott advises the public to not approach the bears.
"If something does happen to somebody, which will hopefully not happen, it's likely the bears are going to pay the price for that so people really need to be thinking about their actions and that they potentially are putting themselves in a bad spot and they are definitely putting those bears in a bad spot."
Scott says Fish and Game plans to be in the area to ensure people and bears do not interact.