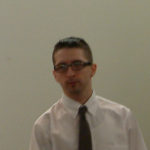 Updated story May 23, 2013 10:29 a.m.
Assistant District Attorney Nick Polasky presented the prosecution's opening statements. He contended that the injuries suffered by four-month old Rian Orr could not be self-inflicted since the baby was largely unable to sit up or roll over on her own.
Public defender Eric Hedland says initial observation of the baby's injuries turned out to be inaccurate and were subject to interpretation. Some injuries may have actually occurred long before the alleged abuse. Hedland also asserted that the mother Jacki Orr was disinterested and David Paul seemed to be more interested in the care of the baby.
Updated story May 22, 2013 12:37 p.m.
A jury of seven women and eight men were seated early Wednesday afternoon and received instructions from the judge before going home for the day. Opening arguments in the case are now scheduled for Thursday morning.
Original story May 22, 2013 8:08 a.m.
Opening statements may be as soon as Wednesday morning in the trial of a Juneau man accused of homicide after the death of a four-month old baby girl.
David J. Paul, 24, is charged with second degree murder with intent to cause serious physical injury, second degree murder with extreme indifference to the value of human life, and manslaughter in connection with August 2010 death of Rian Jambi Orr, the daughter of his then-girlfriend who he was living with at the time.
A jury has not been seated yet. But Superior Court Judge Philip Pallenberg believes they may be close with only a few more potential jurors to question. The defense has only one preemptory challenge left while the prosecution has four. Those are potential jurors that can be bumped or excused for undisclosed reasons.
A fifteen person panel is planned. Three jurors will be randomly selected as alternates and dismissed just before the start of deliberations.
On Tuesday and Monday, potential jurors responded to calls for service at the Dimond Courthouse. As many as 75 people from Monday were split up into three panels for the voir dire process, or separate questioning of each person about their potential biases and their ability to consider the law when reaching a verdict.
Some potential jurors reported reading a story in the Sunday newspaper with a prejudicial headline. Others said they had planned to leave town for a spring wedding or a summer job, or were gearing for their summer business.
The second large group of potential jurors that was called in on Tuesday will not be needed.
(Story corrected to accurately reflect the relationship between Paul and Orr since it has not been definitively determined that he is her biological father)