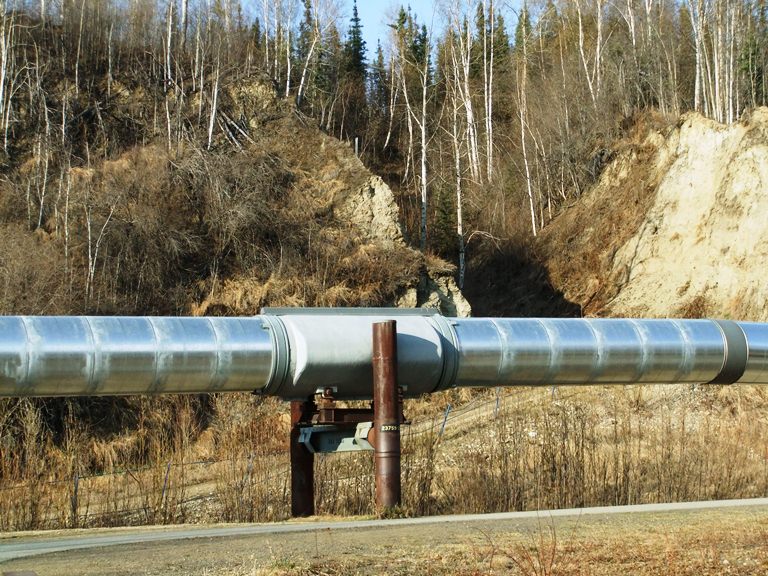 Governor Sean Parnell on Tuesday signed the oil tax overhaul bill into law, now called "MAPA," or the "More Alaska Production Act."
The act reduces taxes on oil companies operating in Alaska. Supporters believe it will increase oil company investment in Alaska.
Parnell introduced the legislation three years ago and it finally passed at the end of this session, after redistricting gave Republicans enough Senate seats to take control of the state Senate, which had blocked the bill.
Critics fear the plan gives away too much to oil companies with no guaranteed return. Protesters gathered outside the Anchorage venue where Parnell spoke and signed the bill in Anchorage.
Only two Southeast Alaska lawmakers voted for Senate Bill 21, and the opponents say they will sign a citizens' petition that is circulating the state to repeal the new law. Organizers hope to get the question before voters next year.
Matt Lichtenstein discussed the issue with most of Southeast Alaska's legislators as well as the Lieutenant Governor when they visited Petersburg last weekend for the Little Norway Festival.
The annual celebration of Norwegian heritage is Petersburg's biggest event of the year, so it usually draws several lawmakers from out of town.
The biggest issue was Senate Bill 21. That measure cut taxes on oil production by billions of dollars.
Juneau Representative Cathy Munoz initially voted against the bill because she thought it needed some changes. But when it came up for reconsideration, she voted to pass it along with the rest of the Republican majority in the House.
"Just in my five years in the legislature the production has gone down about 25 percent and that represents billions of dollars in revenue to the state of Alaska," Munoz explained. "So, my strong feeling is that the state needs to do something. That there are problem in the current tax policy, in ACES, that need to be refined and made to be more competitive as it relates to other taxing jurisdictions in the western hemisphere."
ACES stands for Alaska's Clear and Equitable Share. That was the oil tax regime instituted in 2007 under then-governor Sara Palin. It included a windfall profits tax that increased with the price of oil, reaping billions more for the state. SB 21 eliminated that provision, which is often called progressivity.
According to Munoz, Alaska needs to incentive-ize more production not only at existing oil developments called legacy fields, but at new sites as well.
Republican representative Peggy Wilson of Wrangell also voted for the bill.
Southeast's other four lawmakers are against it.
Sitka Democrat Johnathan Kreiss-Tomkins questions the need for more incentives. He points out that under ACES, Conoco-Phillips made more than a half billion dollars profit in Alaska just for the first quarter of this year.
"I can't be persuaded that 500 million dollars in profit in three months needs to be incentivized," Kreiss-Tomkins said. "I mean, I just don't think people can accept that."
Which is one of the reasons why Kreiss-Tomkins and other critics think there's a good chance the public will vote to repeal SB 21.
According to the Alaska Department of Revenue, the tax cut will cost the state at least $4.5 billion in revenue over the next six years. That's the forecast. Had the changes been in place in 2012, it would have cost the state $1.7 billion for just one year.
Sitka Senator Bert Stedman thinks SB 21 gives away too much.
"The production that was done in 2012 is already economic, under ACES, by virtually any measure – rate of return, cash margins," Stedman said. "So, when you see $1.7 billion moving, red flags should go up. Something's wrong."
Stedman thinks the progressivity under ACES should have been toned-down, but not eliminated. He was one of only two Republican Senators who joined Democrats to oppose SB 21.
"We're a political sovereign and we should be treated like one and we should act like one. And we should not act or put up with being treated like a third world country where someone says we'll take your resources and we'll give you some jobs," he said. "My response is, 'We'll sell you our resources and well get the jobs to get the resources out to market.' But we're not going to trade you the resource for the jobs. That's just ridiculous."
Stedman says he'll sign the petition to get the referendum on the ballot and campaign for repeal.
Lt. Governor Mead Treadwell certified the petition drive application as part of his job. But Treadwell says he would have voted in favor of SB 21 had he been in the legislature.
"Talking about this as a giveaway or not as a giveaway – we have to really begin thinking about attracting investment," Treadwell said. "Now, is it a risk? There's always a risk. You set up a tax system. You hope you're going to raise your revenues by raising production."
Opponents, such as Representative Beth Kerttula, a Juneau Democrat, point out that the elimination of progressivity means a tax break for oil companies whether or not they step up production.
"We changed this tax without one guarantee. Not even a memorandum of understanding," Kerttula said. "Not even one company saying we're going to put new production into the pipeline, which is what we're so desperately after. What kind of a negotiation is that?"
Kerttula and fellow Juneau Democrat, Senator Dennis Egan, say Alaska's budget outlook from funding for education to capital project spending is much worse under SB 21.
"I hope it works but I just have real reservations about it," Egan said. "We've tried crazy stuff like this before and it doesn't work. We could have tweaked the current legislation and done a much better job for the people. You think capital projects were down this year, just wait."
Supporters of the referendum petition have until July 13th to gather signatures. If they succeed, it will be up for a public vote during Alaska's primary election in August 2014.