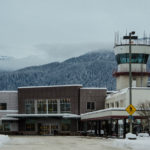 Three people were reported on board a light plane that crashed Sunday evening at the Juneau International Airport.
The Federal Aviation Administration's preliminary accident and incident report identifies two passengers as accompanying the pilot of the M-5 Maule when it crashed on take-off before 7:30 p.m. on Sunday.
Airport acting manager Patty deLaBreure says the single-engine private aircraft seems to have lost control on Runway 26. It went down the embankment on the south side of the runway, past the floatplane pond access road, and it came to rest on the pond bank.
Capital City Fire and Rescue dispatched crews and vehicles for the emergency, but recalled them to the station after determining that there were no injuries that required treatment or transportation to Bartlett Regional Hospital.
"The aircraft stopped just short of going into the floatpond. There was no fire (and there) did not appear to be leaking fuel at the time," said CCFR's Captain Roy Johnston.
He said they stabilized the aircraft and turned it over to airfield maintenence.
Since the aircraft came to rest off of the runway, deLaBreure says they're not aware of the incident prompting any delays in departures or arrivals of other aircraft.
The aircraft has been removed from the area.
The FAA is investigating the incident.
According to the FAA database of civilian aircraft, the certificate of operation for the aircraft, tail number N-378X, has been terminated. Michael Whisenant of Juneau has an application pending as registered owner of the aircraft.