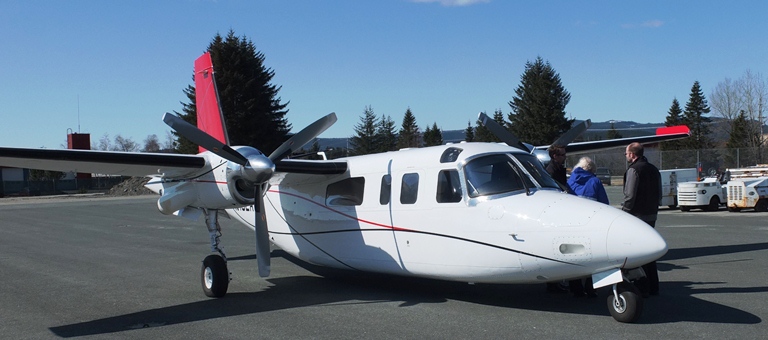 A new turboprop aircraft will make it easier for a medical transport service to land in some Southeast Alaska communities.
Beginning Wednesday, Airlift Northwest will operate a Turbo Commander as well as the Learjet between Juneau and rural communities.  The turboprop will allow the medical service to fly into Gustavas, Skagway, Haines, Hoonah, Kake, and Prince of Wales Island.
Juneau Director of Operations and pilot Greg Clausen said the new plane is easier to land on these small towns' shorter runways.
"This will stop shorter, take off shorter, operates better on one engine if you have an emergency, and (is) just a fantastic platform, performance wise, for the pilot," Clausen said. "Visibility from the cockpit is outstanding, and from the back is outstanding. So going into these non IFR – visual airports – is very important for terrain and other aircraft."
Airlift Northwest is a non-profit company that's part of University of Washington Medicine.  For more than 30 years, it has flown injured or critically ill patients from Southeast Alaska to Seattle or Anchorage.
Clausen says the Turbo Commander will bring patients back to Juneau, where they will board the Learjet for the flight south or north.
The new plane is similarly equipped to the Learjet, providing the same critical care in the air, said Juneau-based flight nurse Amy Center.
"We have a ventilator capacity.  This is where our patient is and then the two nurses would sit next to them,"  Center said, pointing out the specialized equipment on board. "We also have a back seat, so capable of  taking a family member with us, and  in back is the monitor and then above, IV pumps and any other equipment we would use.   So anything you would see in a critical care, (is) here in our aircraft."

Airlift Northwest is one of two medical transport services operating out of Juneau.  Guardian Flight now shares a hangar with Airlift at the Juneau airport, but this summer Airlift Northwest will build its own facility next door.
The Turbo Commander was recently open to the public, and Juneau Assembly member Loren Jones stopped by.
He recalled when his son – age 9 at the time – got hurt on a school playground and had to be medevac'd to Harborview Medical Center in Seattle.  It was 1982.
"We medevac'd out on a 737 cargo combo and I bought nine seats on the airplane – the nurse, myself, the stretcher with my son," he said.  "So people had to give up their seats and I had to buy all the airplane seats on the one way, plus the ambulance rides.  He's fine but it was a pretty traumatic experience.  These kinds of jets look a little bit nicer than the back of a 737."
 A medevac to Seattle is about $50,000. Many health insurance plans, including federal Medicare and Medicaid, cover some of the cost.  Medevac services also provide insurance  of their own as well as charity care.