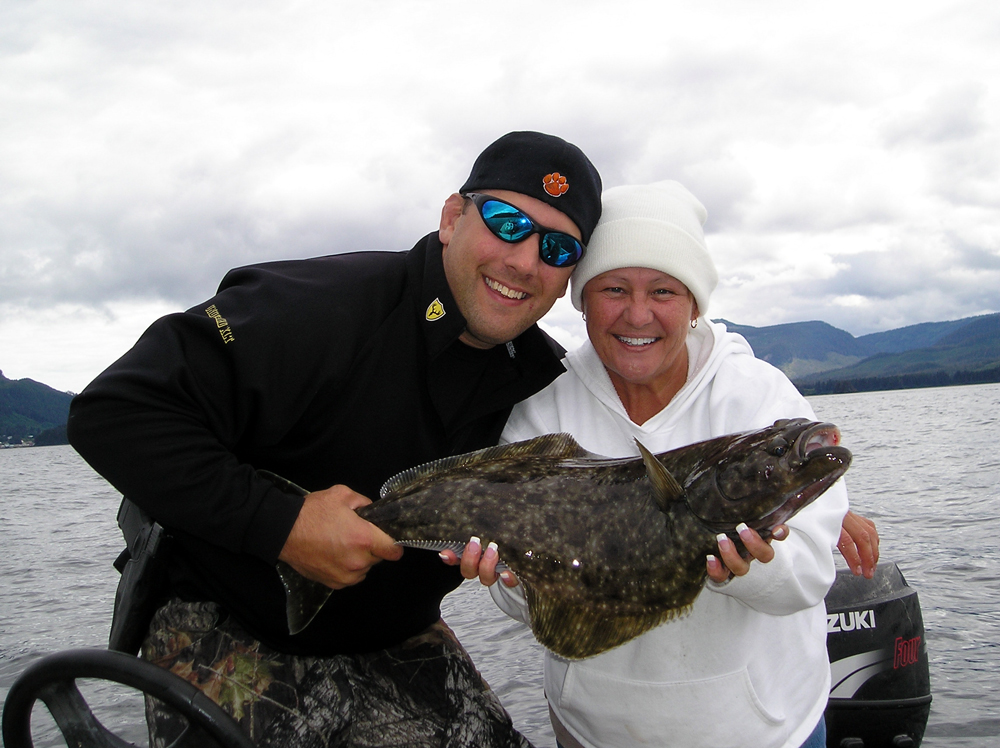 John N. Marvin, Jr. faces as much as 198-years in prison for the murder of two police officers in Hoonah over two years ago. Anthony Wallace, 32, and Matthew Tokuoka, 39, were gunned down as they and their family members socialized on Front Street.
(Update at 1:00 p.m. Friday, April 5th: Marvin was sentenced to two consecutive terms of 99-years each. See the latest story on the sentencing hearing here.)
Shortly after last November's jury trial in which Marvin was convicted of both murder counts, the mother of one of the officers sat down with KTOO to share her memories of her son.
Tony Wallace
Debbie Greene says her son loved living in Hoonah and loved the people there.
"He was happy. He was happy in Hoonah. He found his hunting place," said Greene with a laugh.
Greene is the mother of Anthony Wallace, the Hoonah officer who was on duty on the evening of August 28, 2010. She had traveled from her home in Florida to visit her son – she calls him Tony – as he worked as a police officer in the small southeast community.
Greene was participating in the second of two ride-alongs, or essentially job shadowing her son as he worked his shift. Just before the shooting that eventually claimed his life, Greene remembers him stopping to help a heavily intoxicated man who had fallen.
He was so gentle and so kind to that man. It's like: 'Buddy, you okay? Can I help you?' I'm sitting there in his patrol car, and I'm just watching him and I'm thinking to myself (that) I'm so proud of him. I need to tell him how proud I am. Even though I know he knew, but I just thought I needed to say it. I never told him."
She never had the chance that night.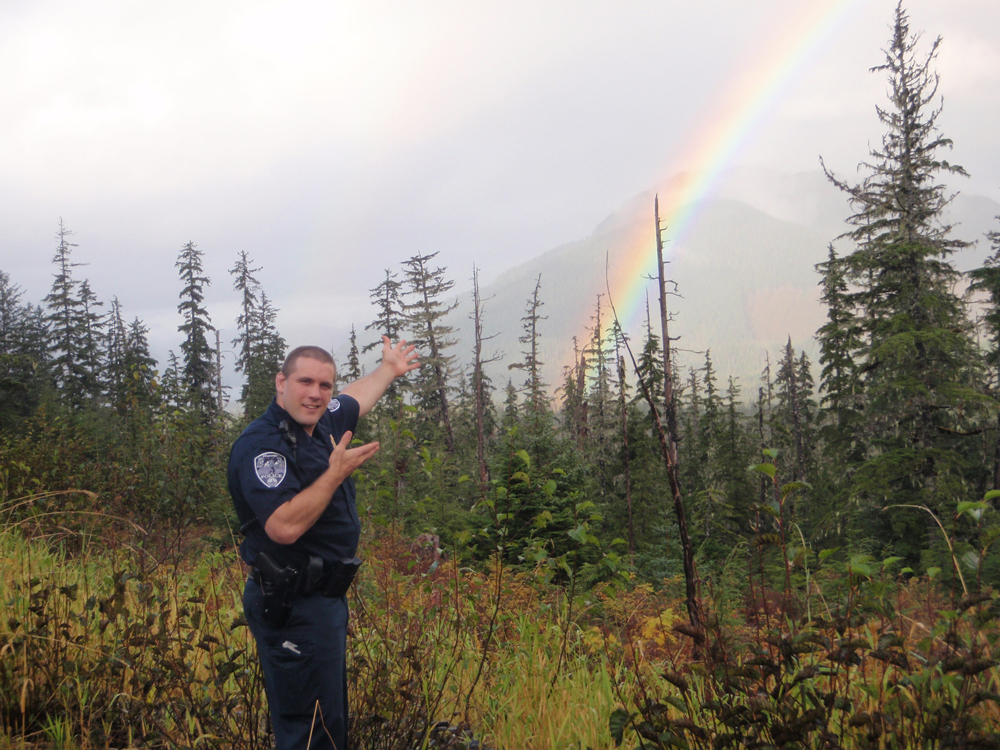 Excelled as a wrestler
Greene said they didn't know that Tony had a hard time hearing until he was about nine months old. She was a carrier of spinal meningitis during pregnancy. So, Tony couldn't hear high and low tones, but he could still hear sounds and voices.
He was an avid lip reader. He could read lips better than anyone I could think of."
Greene later divorced and remarried, but she said the subsequent relationship became abusive. When Tony was nine, she sent him off to live with his father and stepmother because she didn't want him to get hurt. But Greene said she always maintained a close relationship with her son.
There was nothing hidden between me and Tony."
She said he was a good boy with a big heart, always full of life, and he had a sense of humor that sometimes veered into mild or harmless pranksterism.
Greene said young Tony liked being outside and going fishing and hunting, but he didn't take to the usual school sports like football or baseball.
He couldn't seem to channel his anger. I don't know if it was because he was hearing-impaired. He just didn't seem to fit in any kind of sports until he got into wrestling. That was just his thing, wrestling. He loved it."
Eventually, he became a champion high school wrestler in Ohio and picked up a scholarship at the Rochester Institute of Technology and the National Technical Institute for the Deaf.
Tony Wallace became a three-time All American wrestling at 174-pounds and 184-pounds. In a video produced after he was inducted to the RIT Hall of Fame, Wallace remembered suffering what would've been a season-ending knee injury during a practice in his senior year.
I'm done, but it's not the end. I don't want this to be over. This was my senior year. I was highly ranked, third or fourth in the country at the time. It was an opportunity to go for my third All American honors. I didn't want it to be over because I knew that if I quit, (then) I was done. And I'm not a quitter."
He singled out his stepmother Cindy Wallace and mother Debbie Greene as his biggest boosters.
She's not always been able to be there for me to see me compete. But she was always calling me and 'How did you do? We were following you on the news or following you on the internet.' It's always a great feeling when I come back from a weekend trip, the first thing I get is a call from my mom, 'How are you doing?' And it's not just my mom, but also my stepmother."
It's not clear why Wallace was kicked off the team in his sophomore year, but he explained in the video that he was required to do community service and that provided an introduction to the campus' public safety department. After college, he worked as an assistant wrestling coach and, for three years, as a public safety officer on campus.
"He taught police officers, bus drivers, and cab drivers the minimal hand signs to deal with the deaf so they would know where they were going or what was wrong. So, he was very proud of that," Greene said.
Attracted by Alaska's hunting and fishing opportunities, Wallace parlayed that experience into training at the University of Alaska Fairbanks' Law Enforcement Academy and the first of two stints as a Hoonah police officer.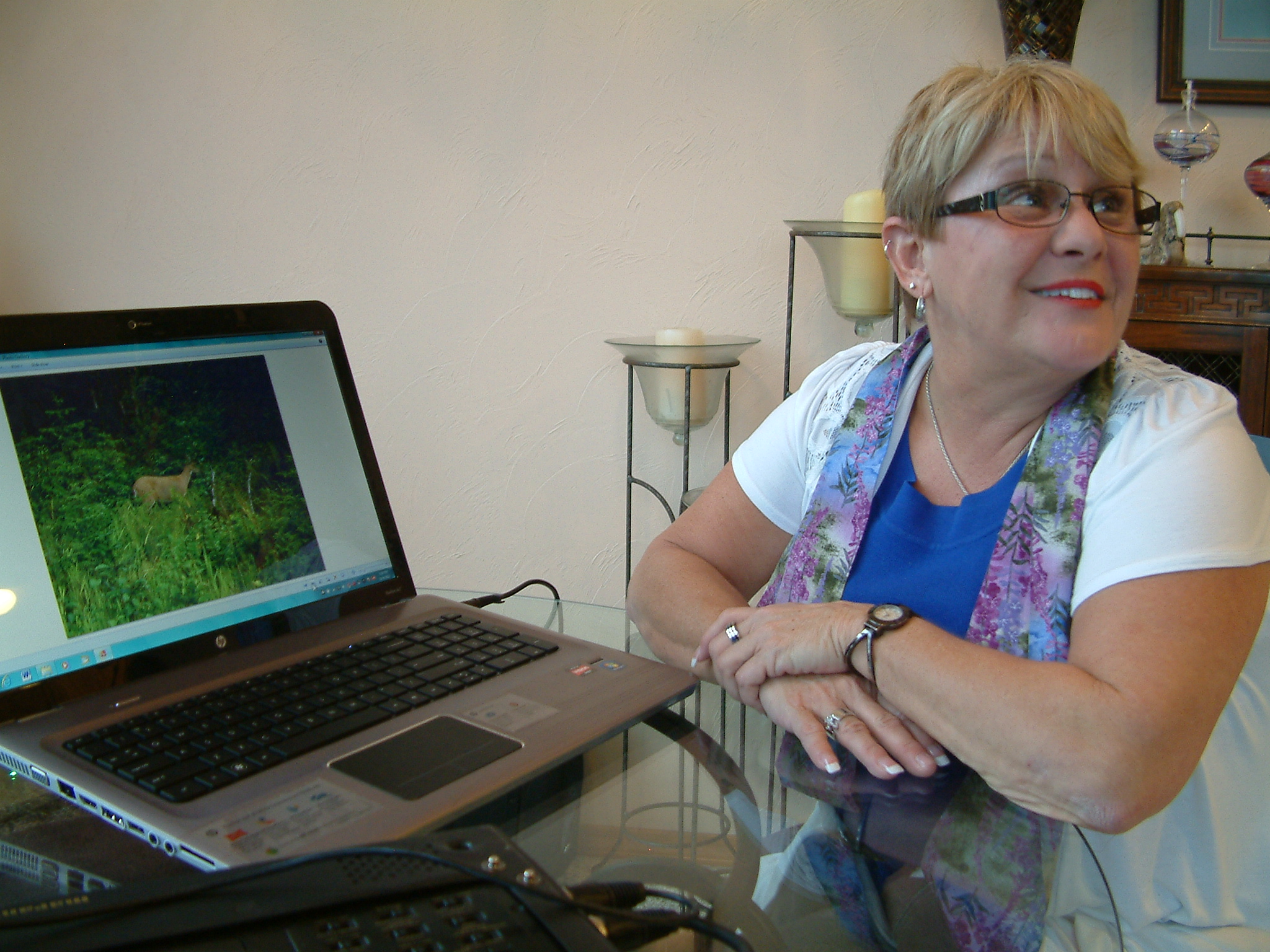 Start of a career in law enforcement
It was fulfillment of a dream for him. Greene said his father and grandfather were police officers. Wallace became a role model, and his hiring as a legally deaf officer was even noted back in New York.
"He just always wanted to become a police officer. And the fact that he was hearing impaired and they told him he couldn't, just made him that much more determined. He worked harder to become a police officer," Green said.
Greene said Wallace loved being with kids. She said he took some children fishing in Hoonah and he taught wrestling moves to those on the high school team. Wallace was also fond of the Tokuoka children. He was gunned down from behind as he visited with them through the open window of the Tokuoka truck on that August evening.
It affected so many people, the town of Hoonah. It just affected all of us. It wasn't just two families. It was a whole village that it'd affected. They loved those two boys. Tony was involved a lot with the kids at the school, playing basketball with them, and teaching them wrestling and wrestling moves. He loved the kids there, he just loved them."
Greene said that horrific scene of her son being shot is something that she will never forget. She continuously relives it, over and over, every day. When Wallace was transported to the Hoonah clinic and cared for by emergency personnel there, both mother and son engaged in their usual familiar banter that wasn't quite understood by attending emergency personnel.
'You've been outside smoking a mmm-mmm cigarette!' I said 'Don't start with me! Do not start with me! Not right now, anyway!'… Yeah, he told me a couple times (that) he loved me. And he said 'I'm done, Mom.' 'What do you mean you done?' He says 'I'm done being a police officer.' I had told him 'No, you're not.' I said 'Tony, I've seen traumas bigger than this.'"
Greene said she has worked as an emergency room and ICU nurse, but Hoonah personnel did the emergency care of Wallace. She comforted him and kept him from pulling the IV out of his arm. At the time, she really didn't know how badly Wallace had been hurt or that he had been shot in the back.
I'm not even angry with John Marvin. I'm not. I've never been angry. I've never been mad. I'm mad that he took my son, but I'm not… I feel sorry for him. I'm not the one he has to answer to for what he's done. He's got to answer to God for that."
After Wallace died, Greene said her mother took it very hard. She had adored her grandson and, although already ill, she passed away only six months later.
In addition to Debbie Greene and Cindy Wallace, Tony Wallace was survived by nieces Stephanie and Allison in Florida, and a teenage daughter Lexis in Ohio.
Other recent stories:
Delayed sentencing for convicted Hoonah shooter
Judge denies new trial request in Hoonah homicide case
Convicted Hoonah murderer wants new trial
John N. Marvin, Jr. found guilty in Hoonah double homicide
Live Blog: Hoonah homicide trial wrap-up
Additional coverage can be found by going to our Special Projects page devoted to the case.