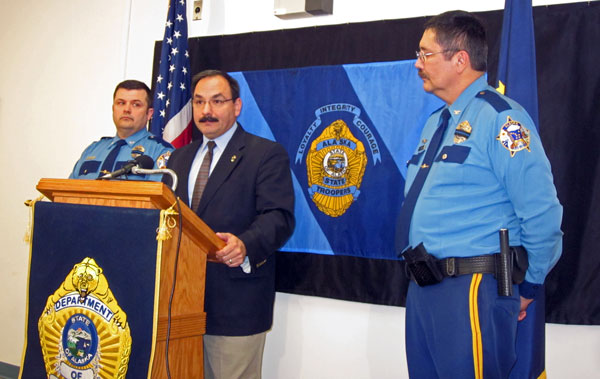 In a somber and sometimes emotional press conference Monday in Anchorage, Public Safety Commissioner Joe Masters said that Helo 1′s pilot, Mel Nading, 55, Trooper Tage Toll, 40, of the Talkeetna post, and a body believed to be that of snowmachiner Carl Ober were aboard the downed craft.  Masters said the rescue call came in late Saturday night, and at about 10 pm, the helicopter crew radioed that they had located the missing snowmachiner.
"At approximately 2200 hours, radio communication with Helo 1 indicated that they had located the injured snowmachiner, tentatively identified as Talkeetna resident Carl Ober. It was requested that a ground ambulance be waiting at the Sunshine Tesoro in Talkeetna to meet up with Helo 1 to transport Mr. Ober to a hospital for treatment. Helo 1 did not make it to the rondezvous."
After the helicopter failed to show up, additional Troopers were dispatched by snowmachine and the Air National Guard was called in. Guard searchers located the wreckage of the helicopter about 9:30 a.m. Easter Sunday.
"Two para rescue jumpers were lowered down to the scene, the two AWT troopers were on scene shortly thereafter. An assessment of the scene was conducted, and it was determined that there were no survivors from the crash of Helo 1. Due to the condition of Helo 1 and the on scene investigation, the recovery of remains occurred later in the day. Positive identification of the remains is still ongoing. On this point, we will not speculate as to why Helo 1 crashed. The NTSB will conduct an investigation into the cause and circumstances."
Masters said that the surviving members of the families of the deceased are now the Troopers' s top concern, although he would not reveal the survivor's names at this time. He said the crash represented a great tragedy for the troopers and the search and rescue community as well.
Trooper Director Colonel Keith Mallard said that pilot Nading was hired in 2000 and had flown over 3000 hours and saved hundreds of lives during his time with the Troopers in Alaska. He said that Nading had over 12 thousand hours in the air prior to coming to work for the State Troopers
"In 2012, Mel Nading made over 900 contacts. So, it's reasonable to think that he flew over 900 missions."
The crash marks the fourteenth and fifteenth Trooper deaths in the line of duty since 1974. Helo 1 was the only helicopter of its type in the state. A second Helo has been requested by the Troopers, but that depends on a legislative appropriation. The cost of Helo 1 is over 3 million dollars.
See Original Post
Victims Names Released in Helo 1 Crash