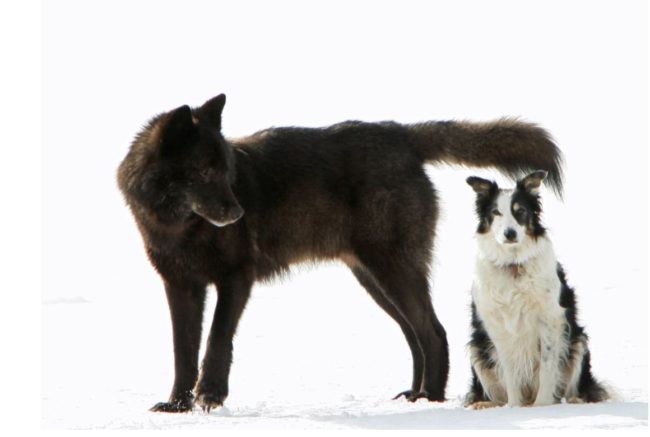 A decade ago, during the winter of 2003, a lone black wolf appeared near Juneau's Mendenhall Glacier. He soon captured the hearts of many in the community.
He was seen more and more, and began to seek the companionship of humans and domestic dogs. Someone gave him the name Romeo and for several winters he was regularly seen around the glacier to the delight of many Juneau residents and visitors.
But in the fall of 2009, Romeo was killed. It was believed two trophy hunters shot the beloved wolf.
Park Myers III of Juneau was sentenced in 2010 to two years' probation and a fine for unlawfully taking big game and bear baiting. His hunting partner, Jeffery Peacock, of Lebanon, Pennsylvania, was later sentenced to three years' probation and a fine for his role in the illegal hunting activities. Prison time for both was suspended.
Many in the capital city reacted with outrage over the death of the wolf. But that was not the reason former University of Alaska Southeast Professor Alex Simon decided to analyze the case.
"As a sociologist what I think is important to do is step away from individual personality traits and to look at the larger social context," he says.
Simon has done that, in the February journal Capitalism Nature Socialism. His article looks at the reasons why many trophy hunters are hostile toward wolves and people who advocate for wolves.
Simon is a hunter, but not for trophies. He admits he was personally outraged by Romeo's death and the way the case was handled in the courts. But for him it's a chance to identify the social factors that may help explain Myers, Peacock and others' animosity toward the wolf.
"Over the last couple of decades the public's perception of wolves has become increasing positive and the perception of hunters, particularly trophy hunters, has become particularly negative," Simon says. "So even in a hunting state like Alaska, the majority of the public actually has a negative view of trophy hunters."
Simon says it is common for some groups to feel threatened by those who regard wolves and other wildlife. His research indicates that certain segments of the hunting population suffer from what he calls out-group anxiety.
"The groups that are suffering from this out-group anxiety, a lot of times what they want to do is step in and punish the groups that they feel have had rewards unjustly conferred upon them," he says.
Hence, shooting the beloved wolf.
"You know in the past it might be in the U.S. maybe burning down an African-American store because they're seen as too prosperous, so to restore the morale order of white superiority," he says.
In this case, stories, books and pictures were sold about Romeo; the wolf became a symbol of living with wildlife in Alaska. After his death, a community tribute was held on the shore of Mendenhall Lake.
"With some people in this community they really see that as an inversion of the moral order. There was certainly a lot of outrage about the crime, but there also were certainly a lot of people who really approved of those actions," he says.
Simon taught sociology at UAS for five years when the black wolf was getting a lot of attention. Simon is now teaching at Utah Valley University in Orem, but is back in Juneau to present his paper.
He is speaking at 7 p.m. Friday at UAS Egan Library.
He's already presented his thesis at the University of Alaska Fairbanks and Anchorage. He says he hopes the Juneau talk will attract some critics:
"There's a lot of self-selection of people who up to these things. And in both Fairbanks and Anchorage I was essentially preaching to the choir. I suspect this will attract a wider audience hopefully it will attract some people who are critical of my position."
He says he's looking forward to a lively discussion.