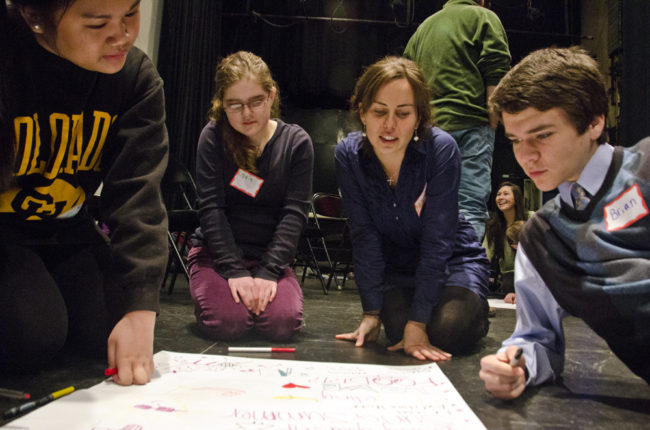 It's no secret that Alaska has one of the highest rates of suicide in the country.
While it strikes some populations more than others, just one suicide often results in another. According to the Centers for Disease Control, youth who are exposed to suicide or suicidal behaviors are more at-risk for attempting suicide.
The Juneau School District is implementing a new program, called Sources of Strength, which helps connect students with trusted adults as well as build multiple sources of support for youth.
Training started last week for middle and high school students, with Executive Director of the program, Mark LoMurray.
"How many of you have had a friend that's been suicidal?" he asked the teenagers and adults sitting in a big circle on the JDHS auditorium stage. About half the hands went up.
"I'm just going to have you break out into some groups and I want you to put down all the stuff that gives you strength," LoMurray said, as he handed out poster-sized sheets of white paper to the groups.
Students spent a few minutes brainstorming then compared notes. Many were similar to this list:
"We have friends and family, and traveling and writing; journaling is sometimes helpful. And reading, drawing, eating food, watching TV, exercising."
The exercise is one of several used this day to start students thinking about factors that could lead to suicide and the strengths they have to guard against it. Life skills, LoMurray said.
Sources of Strength began when he was working on rural North Dakota Indian Reservations, where the suicide rate was high.
"And one of the things we found is we need to have peer leaders involved and we also need to have a strength-focused approach," he said.
Now Sources of Strength is in schools, universities and communities throughout the U.S. and Canada. It's been adopted by the Tanana Chiefs Conference and is being used in some Interior Alaska villages.
LoMurray said teens can spread a positive message with their peers in a way adults can't, whether it's on Facebook, going into a classroom, or just hanging out.
That's one of the reasons JDHS principal Ryan Alsup has embraced the program.
"They see things in the hallway that we as adults don't necessarily see. They also see kids in a social setting and they're also the first to notice when somebody becomes more withdrawn from their group," Alsup said. "To me the beauty of the Sources of Strength program is that it's student centered and not adult centered. We can do a lot of talking at kids, but kids talk amongst themselves."
The youth and teachers train together. They were selected by school staff and represent a cross-section of the student bodies from Dzantiki Heeni Middle School as well as Juneau-Douglas, Thunder Mountain and Yaakoosge Daakahidi high schools.
JDHS English teacher Tonya Mosher has taught for 16 years. She said it was easy to agree to take part.
"As an adult that kids come to, I'm often trying to get them connected with other people to help, so this just seemed like a natural fit," Mosher said.
Dressed in a pressed blue shirt, tie and argyle vest, freshman Brian Holst says he wants to help students who need a hand up, "so they know where to go to find those people that want to help them."
While it's dress-up day for Holst and his friends, Makelini Mausia looks more comfortable in sweatshirt and jeans. The JDHS freshman has Tongan roots and knows the value of family as a source of strength.
"I'm kind of proud that I was recommended because I do kind of try to help people that are in trouble and I do have some friends that are," she said.
Ati Nasiah will serve as an adult advisor from Juneau's AWARE Shelter. She said AWARE will bring in experts on teen dating violence, domestic violence and other issues. The Southeast Alaska Regional Health Consortium is also involved.
Nasiah calls Sources of Strength an empowerment program for teens "providing opportunities for youth to know they're powerful agents of change to really change the school climate."
JDHS senior Esra Siddeek has just a couple of months left in high school. She knows the program will help equip her for college next year, where life will be even more complicated.
"It's definitely a huge thing we could do for our community and school," she said.
It will take about three years to implement the Sources of Strength program in the Juneau School District, with new students trained every year.
Hilary Young will head it up. She works for Juneau Youth Services, which already offers the Signs of Suicide educational curriculum in the high schools.
Young says Sources of Strength doesn't stop at school; to be successful youth must hear "the same message when they go to soccer practice with (CBJ) Parks and Rec, you know, or when they are playing baseball, or whether they're at youth group, or culture club, or whatever it is, these messages are getting reinforced across the community."