Wednesday at 3 on KTOO-FM, Andy Kline hosts.
Listen Here!
We'll spotlight Perseverance Theater's current play, Seminar;
Susan Cox will be here to highlight this Saturday's Girl Scout Dinner and Auction;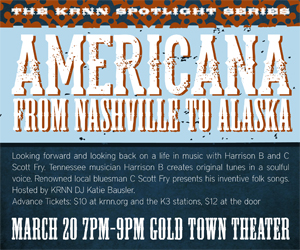 We'll get a preview of tonite's KRNN Spotlight Concert with musician Harrison B;
We'll find out about Medicare with guest Judith Bendersky;
And we'll get an update on Eaglecrest.
That, Writers Almanac, music and more, Wednesday at 3, on KTOO-FM.