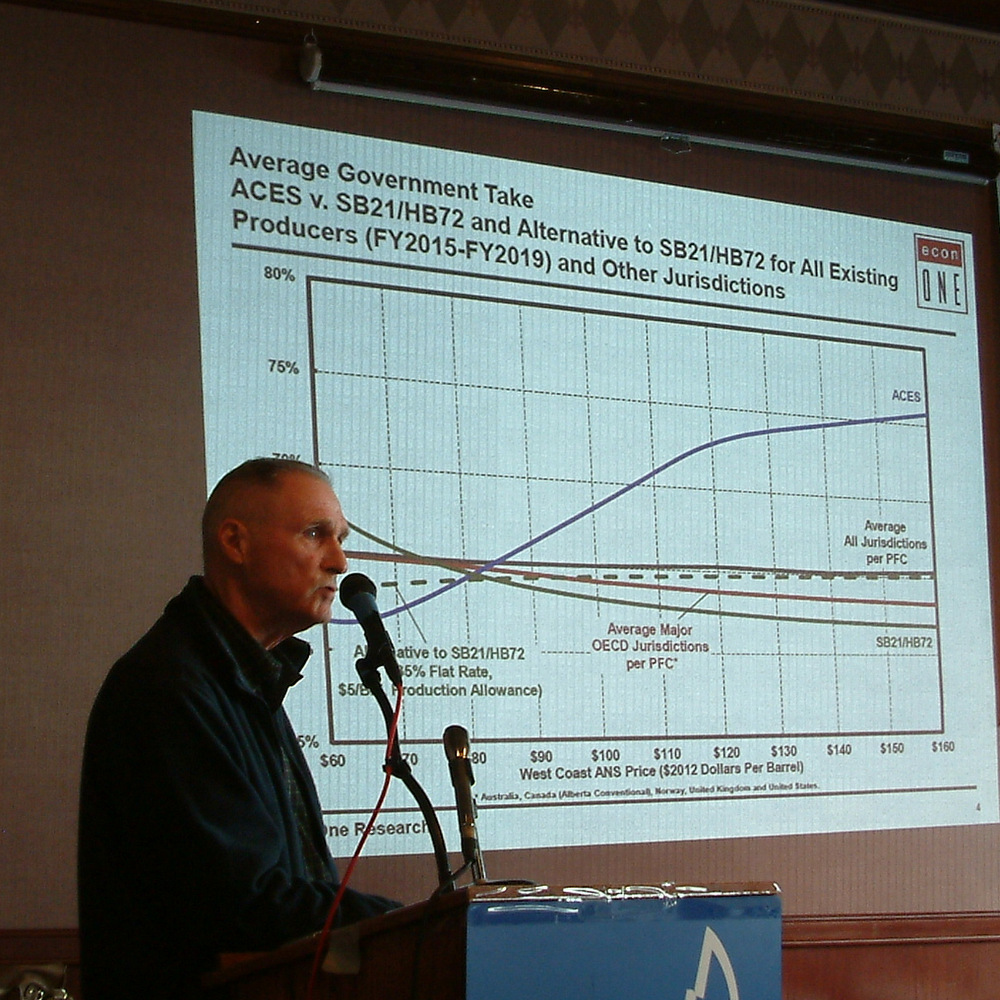 Juneau members of a state-wide group calling for an overhaul of oil production taxes say they liked the later rewrite of a bill more than Governor Sean Parnell's earlier version.
Bill Corbus of the Make Alaska Competitive Coalition said the measure approved by the Senate Resources Committee (just before it was later amended in the Senate Finance Committee) included a 65-percent effective tax rate with slight progressivity. Progressivity is the government's portion or take that increases as the price of oil goes up.
"In my opinion, it's an improvement," Corbus said.
Corbus said the current system of tax credits is not really successful with a billion dollars paid out by the state. But the latest bill corrects that perceived flaw by tying credits more to production rather than exploration.
According to charts he showed to the Chamber of Commerce during Thursday's luncheon, Parnell's latest bill – as introduced this session – called for a decreasing average government take during high oil prices. That's in contrast with the current tax regime, called ACES or Alaska's Clear and Equitable Share, which includes progressivity as oil prices exceed $80 a barrel.
Corbus said oil production of 2,000,000 barrels a day in 1989 has declined to 550,000 barrels a day today. It's expected to decline to 338,000 barrels a day in ten years.
Meanwhile, he estimates at least 10-billion barrels of reserves remain untouched on the North Slope.
Corbus said critics of the Parnell's tax reform efforts have valid questions. Such as, do lower taxes guarantee more production?
"I guess the real answer is that there is no ironclad certainty that they will do it," Corbus said. "But there are a lot of reasons why they should do it."
He said the 10 billion barrels of reserves is economically recoverable. Continued development of North Slope would also be part of producers' efforts to maintain diversified resource portfolio of fields around the world. Including Trans-Alaska pipeline, he says the industry already has $70 billion invested into the state.
"It just doesn't makes sense that they're gonna walk off and leave that there," Corbus said.
Second big question: What about bridging the gap between the state budget expenses and lower revenues? Corbus says the $11 billion constitutional budget reserve and the $5 billion in statutory reserves could carry the state over until increased production kicks in.
Corbus served as Revenue Commissioner under Governor Frank Murkowski. He appeared before the Chamber along with Juneau attorney and Murkowski chief of staff Jim Clark, another member of the Make Alaska Competitive Coalition.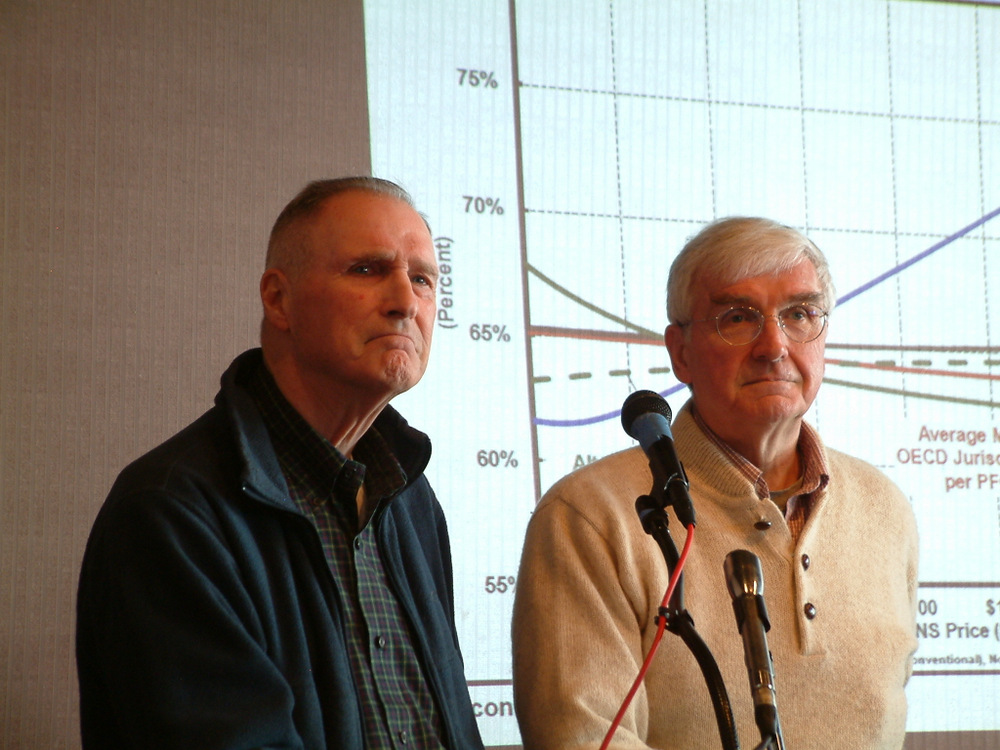 Clark said increasing demands of the state operating budget are already surpassing oil revenues.
"The revenues to the state are going to go down, and they're going to go down whether we change the oil production tax or we don't," Clark said.
"If this works, we have a chance of catching ourselves and having investment go up and production go up. If we do nothing, (then) we just ride it down."
Waiting until later could eventually endanger the state's capital and operating budget since roughly 90-percent of the state's revenues comes from oil production.
If the changes don't work, Clark said there's nothing preventing them from changing tax rates again.
As far as getting guarantees from producers to increase investment, Clark said that is pretty much impossible to administer.
Clark drew parallels to Alberta which he says increased tax rates to over a 65-percent threshold, and then lowered them again after companies left the province. He said the aim is to get Alaska producers to invest in legacy oil field development rather than just pipeline maintenance like they do now.
According to its website, the Make Alaska Competitive Coalition is devoted to crafting a competitive and balanced petroleum tax. It's self-funded by Alaska individuals and businesses, but it does not accept contributions from companies devoted to oil production.