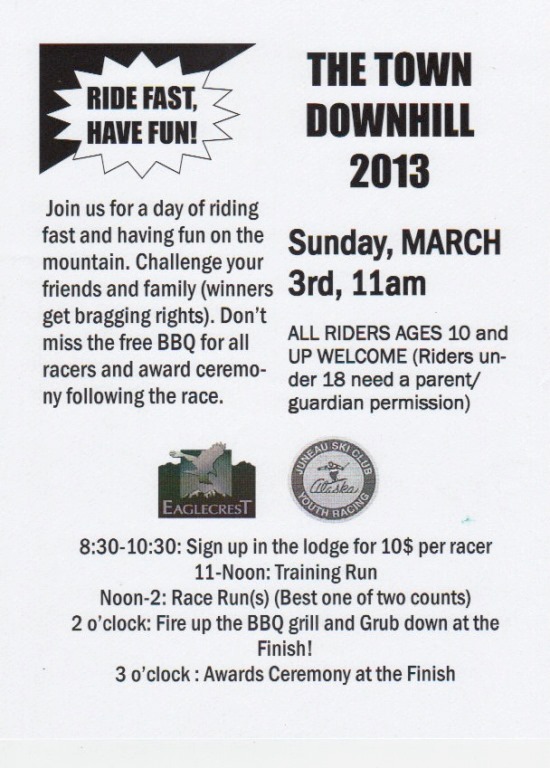 Former Juneau ski racers Nathan Ord and Brian Vandor took the top two spots for men in Sunday's Town Downhill, while former ski team head coach Jeffery Johns came in third.
Heidi Denton and Lucy Squibb, both former Juneau ski racers, were first and second for women, and current race team member Quincy Bates came in third.
Nearly 60 skiers and snowboarders competed in the second annual community Giant Slalom race at Eaglecrest Ski Area.  The race was open to those  age ten and up, and participants raced in categories ages 10 to 12; 13 to 16; 17 to 39; and over age 40.
Before the race, Juneau Ski Team Head Coach Dan Ord said he had "ordered the sun" for the Sunday event.   It turned out to be probably the most beautiful Sunday since the season started in December.
Original story:
The second annual Town Downhill is Sunday at Eaglecrest Ski Area.
The community race is open to skiers and boarders age ten and up.
 "I ordered the sun; sun's going to come out for the event," says  Juneau Ski Team Head Coach Dan Ord.
We can only hope!
Even if the sun doesn't shine, the race will start  at noon on what's known as the Super G trail, above tower 12 of Ptarmigan lift.
Ord makes the course sound almost easy:
"Let's say a 15 to 20-foot steep start down onto the flats right above the tower, then it shoots you straight down the last bits of Super G.  Nice right footer and a left footer, and you're out, coming across Upper Hilary's over towards what I know to be Thiokol Lake.  And then it's just four cat tracks wide, nice element of glide and you're swooping out over onto Lower Face. Then it's just a big right footer and you're down a pitch then you're back onto Lower Hilary's."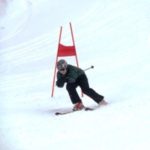 Last year about 50 racers turned out for the first community race held in years at the city-owned ski area.  Ord hopes it will spark an adult race series like the Rainier Challenge in the 1980s.  The winner then got a pair of K2 skis topped with the Rainier beer logo. Those skis can still be seen making turns at Eaglecrest.
No free skis this year, but the event will end with a free barbeque and awards ceremony.
Juneau Ski Club parents are putting on the Town Downhill. Sign up before 10:30 Sunday morning at the Eaglecrest Lodge. Training runs begin at 11 a.m. and the race at noon.  Each racer gets two runs.