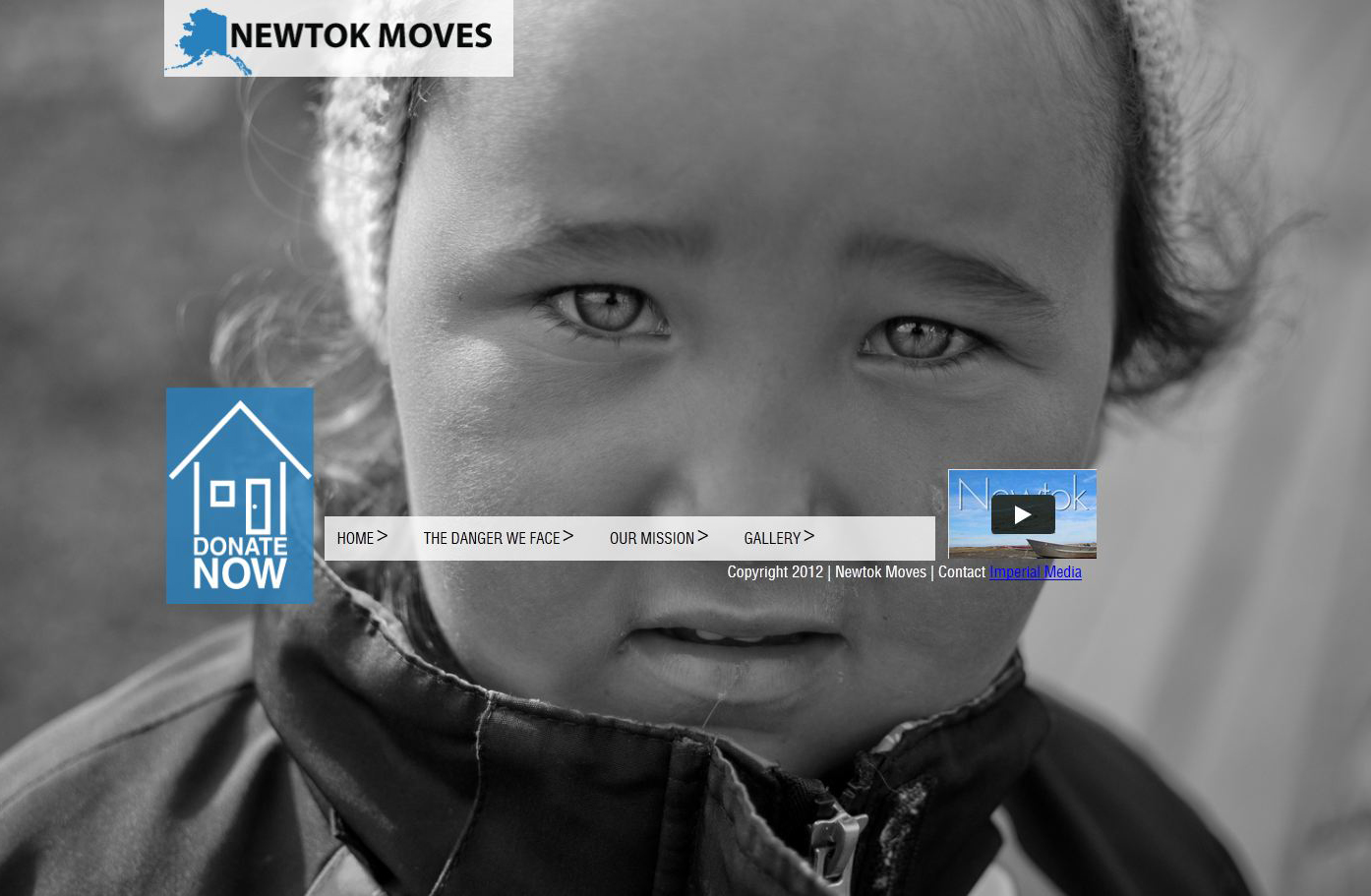 Studies by the U.S. Army Corps of Engineers and Government Accounting Office show increasing numbers of Alaskans will be affected by floods and erosion in coming years due to rising waters and extreme weather events. And the studies predict some communities are likely to be destroyed by 2017. Of those, Newtok is the furthest along in relocating.
But an Anchorage human rights attorney says changes are needed so agencies can more effectively help people being dislocated due to the impacts of climate change.
The Yup'ik village of Newtok, situated between the Newtok and Ninglick rivers in southwest Alaska, is facing destruction. Rising waters and melting permafrost there have lead to two floods since 2004. Water has flooded the sewage disposal area, carrying contaminated water into the village and creating a health hazard. Stanley Tom is Newtok Tribal Administrator. He says the village is losing up to 150 feet per year to erosion… and their water source is only 154 feet from the river:
"When the village safe water was doing tests and we did pick three of them and they were already contaminated with salt water. It's the only water we have left. It's in front line of erosion. If it's impacted this summer, how do we get our water?" Tom asks.
Erosion has destroyed the landing where barges used to deliver fuel and other supplies, as well as the former landfill. The village no longer has enough fuel tanks to hold a year's worth of fuel.
Robin Bronen is Executive Director of the Alaska Institute for Justice.
Drawing on her research for her PhD dissertation, she gave a January 2013 presentation to the Brookings Institution. She's calling for the creation of a framework that allows agencies to more effectively work with communities that choose relocation over protection in place… a decision some come to only after protection systems have repeatedly failed. But Bronen says the decision on whether to move would need to come from the community.
"The controversy is that we in the world have a horrific legacy of relocations, most of forcible by governments without people making the decisions whether or not they want to relocate and we have that history in Alaska not that long ago," Bronen says.
In Newtok, villagers began working towards relocation in the 1990s. They selected a new site nine miles away, called Mugtarvik. After years of negotiations and lobbying, it acquired title to the land in 2003.
In 2006, the Alaska Department of Commerce, Economic Development and Community Affairs organized a Newtok planning group of more than two dozen federal, state, tribal, and regional organizations with Sally Russel- Cox as its coordinator. She says the group has pooled resources – for instance, two projects have used resources from the Bureau of Indian Affairs, federal department of commerce, state department of transportation, and a Department of Defense training program. She says one of the group's biggest strengths is it's collaborative approach.
"I like to think of the work that we have done, with Newtok, especially as in a way following the Yup'ik model of decision-making. Because it's definitely a group type of decision making and that's definitely been what's happened, everybody sitting around the table brainstorming and coming up with ideas and building consensus among themselves on how things should happen, and with the community being in the lead in all that," Cox says.
Bronen says that collaborative process can serve as a model for communities around the world facing relocation due to climate change.
But she says for Newtok to get as far as it has, it's taken a remarkable and extraordinary effort. Bronen describes other communities that have gone through an extended public process to pick a new site, only to have an agency say it doesn't meet certain criteria – criteria that wasn't spelled out beforehand. And funding is often based on population. So Newtok finds itself in a Catch 22 position – it can't move to Mugtarvik without water, power, transportation, and communications systems. But it can't get funding for some of that infrastructure until people are living there. Bronen says it shouldn't be that difficult.
"The relocation effort is taking an extraordinarily long time and people need to be moved now. Their community is not safe. I know everybody wants them to be able to move as qucikly as possible to their relocation site, but there are really difficult stat and institutional challenges that government agencies are working around," Bronen says.
Then, she says, once a village is identified as needing to be relocated, funding for infrastructure in the current village site dries up, leaving villagers to cope with deteriorating conditions. Stanley Tom says the workload of keeping Newtok running while also writing grants, coordinating activities at Mugtarvik, and lobbying for money can be overwhelming.
"I'm worried about the funding, the community. It's a lot of things in my mind I'm worried every day, every night. I have to wake up 5- 6 in the morning and worry about my work," Tom says.
Still, Tom says the Mugtarvik village now has a barge landing, the foundation built for an emergency evacuation center, a road to the evacuation center, and six homes, He's encouraged that the tribe has funds to build the community evacuation center at Mugtarvik, and 17 villagers trained to do the work. He's also proud of the new website the village had created, at newtok moves.org. His next big goal is to find funding to build a total of 60 homes to accommodate the 350 or so villagers.
And Bronen applauds Newtok's progress. She says it's years ahead of several communities agencies forecast will no longer be viable by 2017, villages struggling against all odds to relocate.