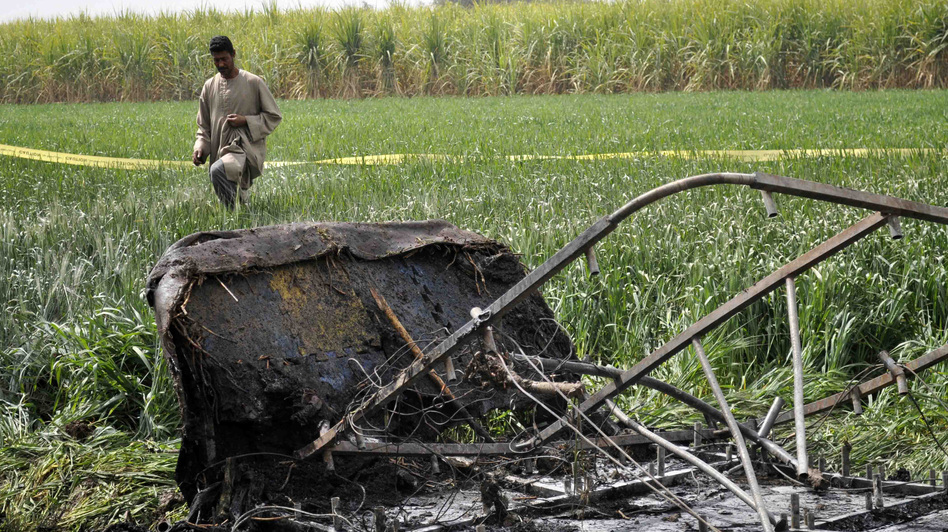 The final death toll has not yet been determined, but the number is high. A hot air balloon carrying tourists on a flight over historic sites around the ancient Egyptian city of Luxor caught fire Tuesday. It then plunged to the ground.
NPR's Leila Fadel reports from Cairo that 19 people may have perished. Al-Jazeera puts the current death toll at 18. According to NBC News, at least 14 people were killed — but another four are said to be missing.
Regardless of the final number, "it was the deadliest hot air balloon accident in the world in at least 20 years," says CNN. Those killed included tourists from Japan, Britain, Belgium and France, according to news reports.
As for the cause, NBC reports that:
"There were conflicting accounts of what happened.

"[Ahmed Aboud, who runs another balloon company and acts as a spokesman for balloon operators in the area] said that gas tanks caught fire and ignited the balloon at about 1,000 feet.

"But an eyewitness, who did not want to be identified, said the balloon was about 12 feet off the ground when a landing rope was thrown to people on the ground. As they grabbed it, the rope wrapped around a gas container, which broke and a fire then started. The witness estimated the balloon then 'shot up 500 meters' (1,640 feet) and the pilot 'jumped out as it was going up.' "
According to The Associated Press, "hot air ballooning, usually at sunrise over the famed Karnak and Luxor temples as well as the Valley of the Kings, is a popular pastime for tourists visiting Luxor. The site of the accident has seen past crashes. In 2009, 16 tourists were injured when their balloon struck a cellphone transmission tower. A year earlier, seven tourists were injured in a similar crash."
Read original article
Tourist Tragedy In Egypt: Hot Air Balloon Catches Fire; Many Aboard Killed