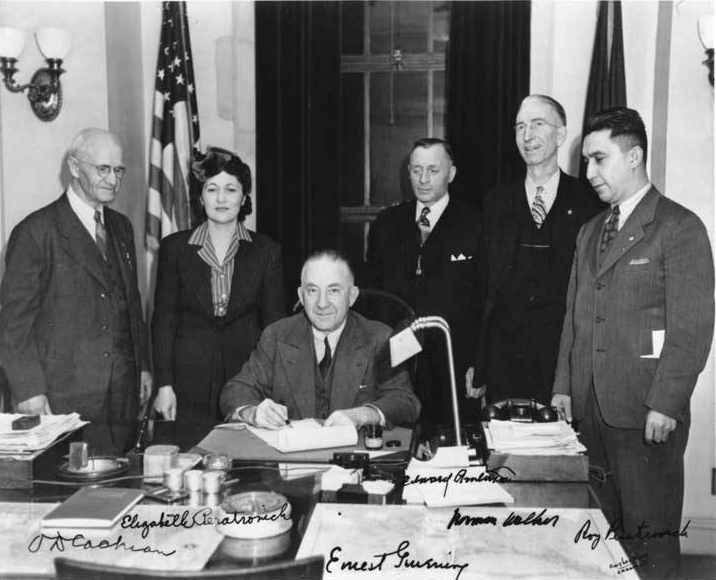 Alaskans marked Elizabeth Peratrovich Day on Saturday, in honor of the Tlingit woman whose testimony to the territorial legislature helped pass an Anti-Discrimination Act in 1945.
A small crowd gathered at the Alaska State Museum in Juneau to hear a talk from Barbara Cadiente-Nelson, a board member of Sealaska Native Corporation and the Douglas Indian Association, as well as a member of the Alaska Native Sisterhood.
"Mrs. Peratrovich's testimony exemplifies a Tlingit value that our words have spirit and life," Cadiente-Nelson said. "They tear down, or they build up. Choose them wisely."
Peratrovich and her husband Roy were leaders of the Alaska Native Sisterhood and Brotherhood in the early 1940s, a time when Native people faced discrimination in housing and from many businesses in Juneau.
Since ANB and ANS were the leading civil rights organizations of the day, the couple petitioned territorial Governor Ernest Gruening to introduce the Anti-Discrimination Act. Elizabeth Peratrovich was the last to testify before the territorial Senate voted on the bill in 1945.
In 1988, the Alaska Legislature made February 16th Elizabeth Peratrovich Day, to mark the anniversary of the date Gruening signed the act into law.
Cadiente-Nelson acknowledged progress in the nearly 70 years since the act passed, but said there remains work to do to eliminate racism against Native people.
"When I was a teacher at Juneau-Douglas High School during a painful time, the acronym KAN was written on my white board and on my desk boards – it was Kill All Natives," Cadiente-Nelson said. "That's just one glimpse as to the presence of this evil that sometimes knocks on our door."
After Cadiente-Nelson's speech, the State Museum held a special screening of the documentary "For the Rights of All: Ending Jim Crow in Alaska." The museum currently has an exhibit honoring Peratrovich titled "Alaskan. Native. Woman. Activist." It's on display through March 16th.
The Juneau-Douglas City Museum also has a special exhibit this month honoring Peratrovich.