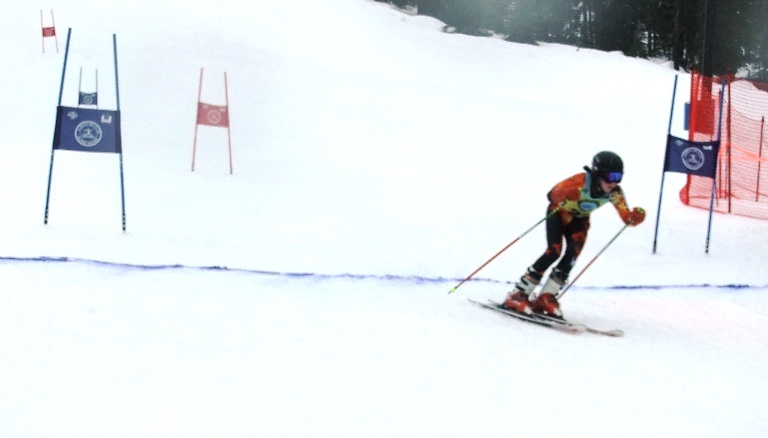 Forty young ski racers from Juneau, Anchorage and Fairbanks competed at Eaglecrest Ski Area over the weekend in the first statewide race series of the season.
Friday's giant slalom was wet, with the snowline just about the top of Hooter lift.  The snow was soft and it was hard to keep an edge.
Thirteen-year-old Jessica Gregg crashed in the first run. She said she found herself sitting back too far on her skis.  She knew what changes she had to make for a successful second run.
"Turning earlier and driving your hands forward," she said.   And she succeeded in the second run.
That's the story of ski racing – constant adjustments to the snow, the terrain, weather and visibility, as well as the course.
Kids ages 11 to 16 competed all three days in the Under 16 NAPA Auto Parts Race Series.  The slalom event was held on Saturday and a Kombi on Sunday.  Kombi is short for combination slalom and giant slalom race.
Juneau Ski Club Head Coach Dan Ord said the weekend series was one of two qualifying events for the Western Region Junior Olympics, now called the Under 16 West Championship Races.
"If you're 14 and 15, NAPA Auto Parts Race Series and Alyeska Cup hold your qualifying races.  And there's two GS and slalom here and there's two GS and slalom at Alyeska, and two super G's at Alyeska.  We score by run so all of a sudden the kids have four chances with our two races, because two runs make up one race.  Everybody gets a second run, so they have four chances to accumulate World Cup points," Ord said.
The next statewide race is at Alyeska Ski Resort in Girdwood, Feb. 13 to 18.  The U-16 West Championship Races will be held at Alyeska in March.
Check back for more on ski racing later this week.