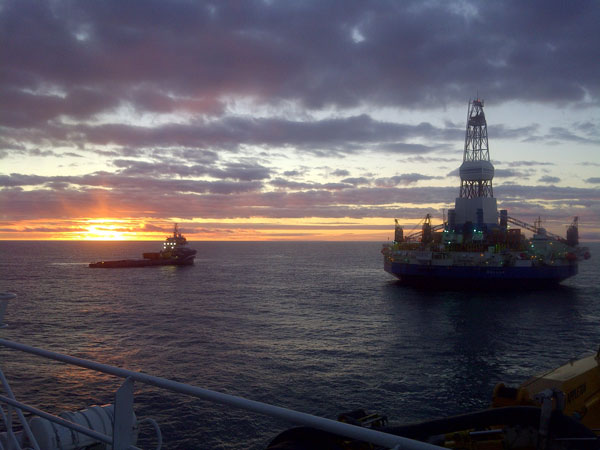 Environmentalists from Alaska are hoping to persuade Congressional staffers Shell Oil should not continue its drilling operation in the Arctic this summer.
The groups held a Congressional briefing on Friday.
Congressional briefings are free of the formalities and TV cameras of Congressional hearings. And they lack the members of Congress themselves.
And many in this town think that's a good thing, because it's the staffers who attend the briefings. And it's the staffers who have the policy expertise. The briefing was organized by the office of California Democrat Barbara Boxer – she chairs the Senate Environment and Public Works Committee.
Verner Wilson traveled from Anchorage to tell the room about how important fishing is to his native Bristol Bay.
"I know that the oil is declining up in the North Slope, but I come from a region where we depend on our wildlife. We depend on the ocean for our livelihood. It's been our livelihood for thousands of years," Wilson says.
Wilson, who dons a spotted seal fur vest and neck tie, works for the World Wildlife Fund. He says he's not opposed to drilling in the future…but the company and government need to ensure the infrastructure will be put in place first.
"What's the rush? Why are we doing this exploratory drilling when we don't have hardly any infrastructure up in this remote and harsh area," Wilson asks.
That's a sentiment echoed by Kiley Kroh. She works with the D.C. based Center for American Progress – or CAP, a left leaning think tank that has a lot of sway with Democrats in Washington.
"Our initial stance was that we were open to Arctic offshore drilling if companies could prove they were fully prepared," Kroh says.
Last week CAP rescinded its support. Kroh says Shell proved it was unable to move forward just yet.
She says CAP may come back around to support Arctic drilling. The ongoing, sixty day study at the Department of Interior will provide some guidance.
Kroh says that expedited review will need to address Shell's shortcomings.
"In terms of infrastructure, in terms of response preparedness, in terms of scientific knowledge of the region, so if those things are met, then there is a potential we could be open to it," Kroh says.
Shell Alaska's spokesperson was not available for an interview. In an email, Curtis Smith says the company is still assessing the Kulluk's condition, and how its grounding will affect future exploration in Alaska. He says the company is committed to operating safely off Alaska's shores.
Michael LeVine is Pacific senior council at Oceana. He's in D.C. from Juneau and is meeting with Department of Interior officials to discuss the ongoing reviewing.
He says Interior never changed any criteria determining which sites are suitable for off-shore drilling after the Deepwater Horizon spill in the Gulf of Mexico.
"The Department of the Interior granted these approvals, defended them publicly and in court, and has stated its commitment to exploration in the Arctic. We need a review that goes beyond those commitments and those defenses and it's our hope Congress may play a role in making that happen," LeVine says.
Congress has yet to do anything. Senator Mark Begich has said he'll hold hearings on the grounding … but no dates or witnesses have been announced.