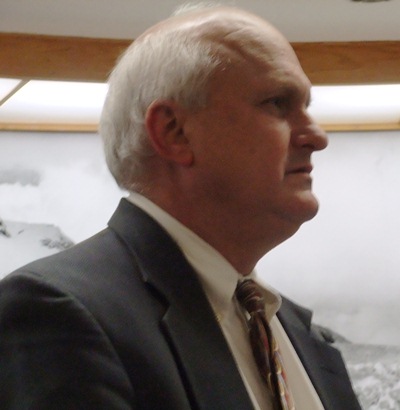 Juneau Police Chief Greg Browning will retire at the end of May, after 34 years in law enforcement.
Browning, 57, came to Juneau 13 years ago as assistant chief and moved into the top job in 2006.
He says he became interested in being a police officer in high school, when he was working in a hamburger stand.
"The officers would come in because the policy was to give officers half-price – it's not exactly appropriate anymore – but back in those days it was pretty common. And so I got to know police officers and got interested in the profession," Browning says.
Browning has a bachelor's and master's degree in criminology from Florida State University, which he says is one of the best schools of criminology in the country.
Originally from New Mexico, he took a job out of college with the Amarillo, Texas, Police Department, expecting to stay a couple years. Instead, he stayed two decades and worked his way through the ranks to captain.  Then he moved to Juneau.
Amarillo has a department of about 300 sworn officers, compared to the small Juneau Police Department.
"The isolation here makes it necessary for even a small department like Juneau to have our own SWAT team, our own bomb squad, and we're completely on our own here if something happens. Whereas communities in the lower 48  have the luxury of being able to form alliances with other jurisdictions to cover things like SWAT and bomb teams and things like that," Browning says. 
He says both Amarillo and Juneau have been part of a satisfying career in law enforcement, which he describes as a job in which a person "can actually make a difference in your community."
He also like police work because "it's never boring.  There's always something new going on. It's unpredictable, which sometimes that's a negative too, but it's actually what attracts me to the job," he says.
Browning calls being the Chief of Police in Juneau "the highlight of his career," but says he's looking forward to a little less stress, and enjoying some off-duty hobbies like golf and photography.
He says he is giving five months' notice so the city has plenty of time to find a replacement.
He plans to retire to central Texas.