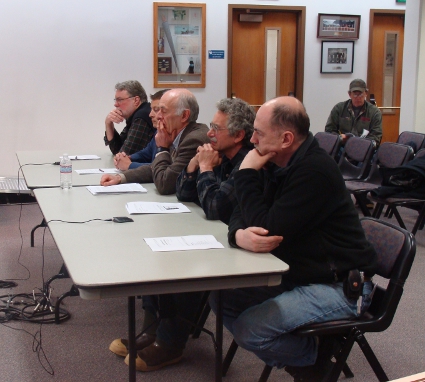 The City and Borough of Juneau should relax its planning and zoning regulations and implement tax incentives to encourage more home building.
That was the message a panel developers had for the Juneau Assembly Monday night in the first of series of discussions assembly members hope to have with representatives of the local housing industry.
Wayne Coogan of Coogan Construction did most of the speaking on behalf of the developers. He acknowledged that a lot of factors go into the cost of housing — land, materials, labor, and insurance to name just a few. But he said planning and zoning influence all of them.
"Housing is regulated by all branches of government, federal, state, etc," Coogan said. "However, the most influential and overreaching regulations are the local zoning and building codes administered by the city."
The developers gave the Assembly a list of 18 recommendations to make it easier to build homes in Juneau. They range from eliminating the city-led plan review, which is required even when a licensed architect or engineer is involved in a project, to tax incentives for subdivision amenities and new multi-unit construction.
General contractor and consultant Dave Hanna urged the Assembly to look into a new state law that allows municipalities to defer property tax increases on new subdivision lots until those lots are sold.
"The difference between the property taxes on a raw piece of land and a subdivision that's about to be built is atrocious," said Hanna. "It would go from a few thousand an acre to maybe $150,000 for a large subdivision. This basically doubles the carrying costs for a developer who's trying to bring a new subdivision on line."
Assembly member Jesse Kiehl noted that much of the city's building code is based on national and international standards. He asked the panel if there was a better approach for Juneau.
Coogan didn't give any specifics, but encouraged the Assembly to pursue it.
"You're raising a point that should be looked into," he said. "Spend a few dollars on some legal research and find out how much liberty the city has to surgically modify the code for its own use."
Other members of the developers' panel included Murray Walsh, Richard Harris and Jeff Grant.
Juneau has some of the highest costs and one of the tightest markets in the state when it comes to housing. The Assembly also plans to meet with property owners, lenders and realtors to find solutions to the problem.
Monday's meeting took place at a Committee of the Whole work session. The Assembly's ad hoc Housing Committee continues to work on organizing a one-day summit that would bring together all segments of the industry.