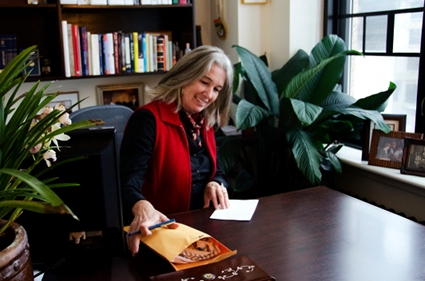 While almost a third of their colleagues in the Alaska House are new faces, Juneau Representatives Beth Kerttula and Cathy Munoz return for their 15th and 5th sessions respectively.
Kerttula remains the House Democratic Minority Leader, while Munoz – a Republican – now has a seat on the House Finance Committee.
Redistricting expanded Kerttula's District 32 beyond downtown Juneau and Douglas Island to include Petersburg, Kupreanof, Skagway, Gustavus and Tenakee Springs. Munoz's District 31 stayed largely the same. But both legislators say the loss of representation for Southeast as a whole means the region's lawmakers will have to work harder in the 28th Alaska Legislature.
With Munoz's seat on the House Finance Committee comes a new office on the fourth floor of the Alaska State Capitol Building.
"We're in a corner unit. So, we have views out toward the channel and also the back of the building," she says. "We're also very close to the Finance Committee. I can get up and down very quickly, which I like."
Munoz expects to spend a lot of time this session in the House Finance Committee meeting room on the building's fifth floor. She received a seat on the panel after former Haines Representative Bill Thomas lost his reelection bid last fall. Thomas had been co-chair of the committee, and Munoz says it was important to have some Southeast Alaska representation.
She'll chair two subcommittees overseeing budgets for the University of Alaska and the Department of Environmental Conservation.
"For the university budget I'm particularly interested in programs that are offered here in Juneau, and offering help in trying to strengthen those programs," Munoz says. "With the DEC budget we're looking at ongoing marine cleanup efforts, as well as concerns over the tsunami cleanup and how that affects the operating budget."
With its demanding schedule, Finance Committee members do not serve on any other committees. Munoz also says she won't be as active in introducing legislation this year.
Down the hall from Munoz, Representative Beth Kerttula is back in the familiar confines of the Minority Leader's office. She's served in that role since 2007. House Democrats lost one seat in the last election and another this weekend, when Representative Lindsey Holmes defected to the Republican party. Their ranks now include four freshmen. But Kerttula is heartened by the new energy the group brings to Juneau.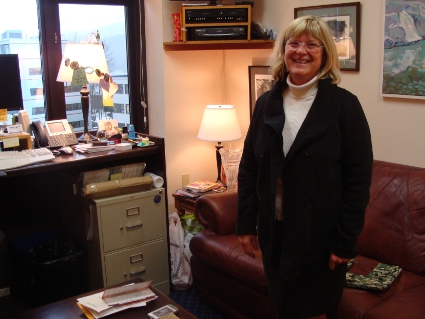 "They're all very talented, very community oriented, and I'm just really excited at getting to work with them," Kerttula says.
For the past two years, House Democrats have teamed up with the Senate's Bipartisan Majority to kill Governor Sean Parnell's oil tax cuts. The old Senate working group is gone, replaced by a more conservative Majority that on paper looks more favorable to the governor's proposals. Kerttula says House Democrats will continue to stand up for the current ACES tax system.
"We have a tremendous resource. We have a lot of new investment on the Slope," she says. "But we're still in so many ways a frontier state, and the thing we have to remember is not let ourselves be taken like a frontier."
Munoz on the other hand has supported the governor's oil tax plan, but like Kerttula she's waiting to see what the administration proposes this year.
"There is a broad recognition, though, that the progressivity features of the tax policy need to be reworked," says Munoz. "So, I expect a bill will focus on trying to make that a more equitable taxing system."
Kerttula says House Democrats will also continue to push for more education funding. That includes pre-Kindergarten and after school programs, as well as forward funding K-12 education.
"Having this rollercoaster for schools, where we wait to tell them when they're getting and how much they are getting for their funding, and then having teachers live through this, it's just not right," Kerttula says. "It needs to be a stabilized funding mechanism."
Kerttula says she's glad to have other Southeast communities included in her new district. She says she's always supported the region's other lawmakers, so it's not too much extra work.
During a visit to Petersburg last fall, she toured the community's aging police station, and says she'll work to see that it gets replaced.
"I was a criminal lawyer at one point in my life," she says. "I know how important it is to have good working conditions for policemen and investigators, and that police station has really just got to be changed."
Skagway Mayor Stan Selmer says the community was disappointed to lose Bill Thomas as a legislator, but thinks Kerttula and Juneau Senator Dennis Egan will represent the community just fine.
"I think we have gained a very strong team with Senator Egan, Representative Kerttula, and sort of kind of Representative Munoz," Selmer says.
As far as Juneau projects go, both Munoz and Kerttula say the delegation will continue working on the state Library, Archives and Museums, or SLAM project. Governor Parnell included $20 million for it in his proposed capital budget, even though $50 million is needed to complete the funding.
Munoz believes there's room to increase the amount included in the governor's budget.
"I don't think we'll get the full $50 million this year," she says. "But I'm going to work hard to see that we get close to our goal of finalizing that project."
The governor's budget also includes funding for renovations at the Department of Fish and Game building in Douglas and the State Office Building parking garage. As for a new state office building, which has been on the Capital City's wish list for several years, Munoz and Kerttula say they'll continue pushing the idea, but don't expect anything to happen this year.