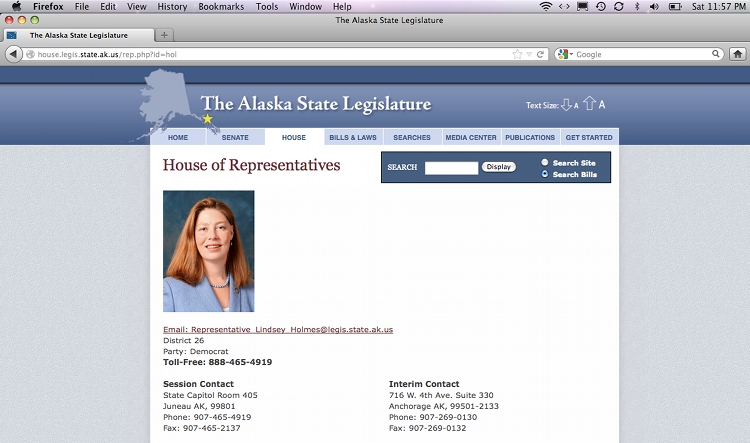 For six years, legislator Lindsey Holmes has represented West Anchorage as a Democrat. But as of Saturday afternoon, she's a Republican.
The announcement that Holmes had switched parties came after a two-hour caucus meeting, where members of the House Majority hashed out what the change meant and occasionally tuned into the NFL playoffs. It was unexpected, and Holmes thinks she'll get a wide range of responses from her district.
"It's going to come as a great surprise to some people," says Holmes. "I think other people will not be as surprised. I think some people will have sort of seen this coming. I believe there's going to be a mix of opinions, but I'm happy to talk to everybody. I represent everybody in my district regardless."
Holmes represents parts of Spenard and Sand Lake, and she won her race as a Democrat with a respectable 55 percent of the vote. But she received over 70 percent in 2010, before taking on part of Republican Mia Costello's old district this year.
Holmes says that she decided to become a Republican because of her positions on business and energy issues. In the past, she's teamed up with Republican Kurt Olson on changes to anti-trust and trade law. And while she didn't vote for Gov. Sean Parnell's oil tax bill last session, she did support the construction of an in-state gasline.
House Majority Leader Lance Pruitt says that's part of why the caucus was eager to welcome her.
"Her views on economic development over the past few years seem to be fairly in line with the majority of our caucus," says Pruitt.
But Holmes' spot on the finance comes at the expense of Democrats. That committee has huge control over state spending, and the minority now has to give up one of their three coveted seats. On Monday, they reorganized so that Les Gara of Anchorage would stay on, and Scott Kawasaki of Fairbanks would serve in an interim capacity. Fellow Fairbanks Representative David Guttenberg held the spot last term, but is currently in his home district caring for his wife and he will be sworn in late. Democrats are expected to review and finalize their committee assignments as soon as Guttenberg returns to the legislature.
Holmes' decision to change parties also means that Republicans now have a 75-percent majority in the House and that they can advance their bills faster.
Even so, Democratic Minority Leader Beth Kerttula doesn't expect Holmes' departure to affect her caucus too much.
"It's not so much the numbers. It's the hard work," says Kerttula. "It's the keeping focused. It's the working across the aisle. And it's also keeping your eye on what's good for Alaskans."
Kerttula says she's focusing on what her four new freshmen can do for her caucus instead of dwelling on Holmes' decision to defect. She adds that she's still willing to hear out Holmes' ideas if they're in line with Democrats' goals.
"We're going to be working with her as well as everyone else to do what's right by Alaska," says Kerttula.
The Alaska Democratic Party has been less delicate in its response. Chair-elect Mike Wenstrup described the switch as self-serving and "disappointing." He says the party would support a recall effort if residents of District 19 initiated one.
For a recall to happen, organizers would have to match 10 percent of the total votes cast in the election. That means they would have to get more than 750 signatures from qualified voters. On top of that, they would have to wait at least 120 days from the start of the legislative session before they could submit the petition. The earliest they could file is May.
Holmes is the first legislator to switch parties since 1998, when Sen. Jerry Mackie left the Democrats to join a Republican Majority.
This story has been updated with new developments since it was first published on Saturday.