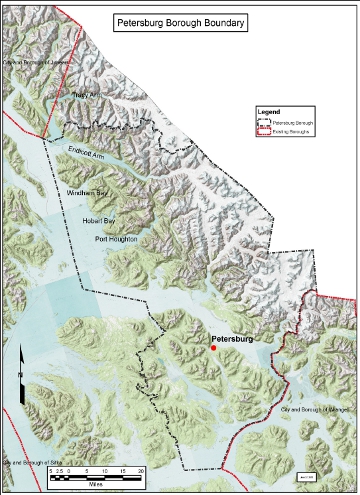 The City of Petersburg is now the Petersburg Borough.
The state Division of Elections Thursday certified results of a vote on borough formation. It passed with 782 votes in favor and 600 opposed.
The new Petersburg Borough encompasses 3,829 square miles of land and water in central Southeast Alaska.
Brent Williams, local government specialist with the state's Local Boundary Commission, says all the requirements have been met for the formation of the borough.
"The city of Petersburg is dissolved and the borough is formed," Williams said. "There's no other announcement. The two things that were required have been done."
Those last two requirements were approval by voters and by the federal government.
"The Department of Justice had to notify us that the Voting Rights Act of 1965 has been complied with and we received such a letter," Williams said.
The Local Boundary Commission approved Petersburg's borough petition last summer, though commissioners set a different northern boundary than sought by Petersburg officials.
The City and Borough of Juneau has petitioned to annex some of the same area included in the new Petersburg Borough. The CBJ has appealed the boundary commission's decision in court. That case is pending.
Petersburg is the nineteenth organized borough in the state. The first meeting of the Petersburg Borough Assembly will be held on Monday.