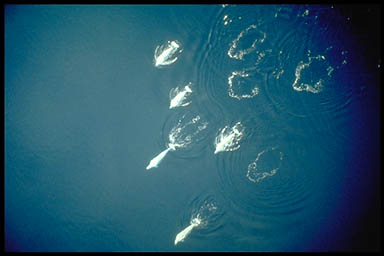 The number of endangered Cook Inlet beluga whales is up a bit from last year, but not enough to indicate a turn-around in the population's slow decline.
That's according to the National Oceanic and Atmospheric Administration's Alaska Fisheries Science Center, which announced Thursday that the 2012 whale population is 312 animals, up from 284 in 2011. During the past ten years, the number of belugas has ranged from 278 whales to a high of 366.
In the 1970s, the population was an estimated 1,300.
NOAA scientists say more research is needed, but a 2011 review and assessment describes a number of sub-lethal stresses on Cook Inlet belugas. Those include pollution, diminished habitat, and changing water temperatures.
The agency is developing a recovery plan for the Cook Inlet beluga whale, which in 2008 was listed as endangered under the Endangered Species Act.