Update:
Dr. Jody McLeod Andrews and her husband Regis were scheduled to be on Juneau Afternoon on Friday, Dec. 7, to talk about Juneau Fest 2012. News director KTOO Rosemarie Alexander contacted them prior to the program, to alert them to the story about Juneau Fest, which had aired on Friday's Morning Edition. They said they looked forward to clarifying information about the event and confirmed they would be at the station for Juneau Afternoon. However, they did not appear for the interview, instead, Pastor Eric Gonyon with Revival Ministries International in Tampa, Florida, called into the station. 
Original Story: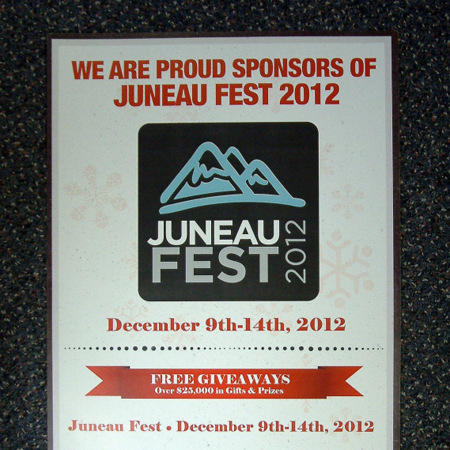 Juneau business operators say they weren't told the whole story when asked to donate items for an event at Centennial Hall next week.
Juneau Fest 2012 promises free gifts and other prizes worth more than $25,000: electronics to sporting goods and household items, city recreational facility passes, and store gift cards. Firefighters could win a Remington rifle and police officers are eligible for a Glock handgun.
"And thank God for Walmart," said Juneau Fest organizer Jody McLeod Andrews. "Walmart donated a $1000 grant to enable us to buy more Christmas toys."
McLeod Andrews said they even have a car to give away.
Businesses have variously been told that it's holiday celebration, party for kids, benefit for local charities, or an event to honor local police and firefighters. McLeod Andrews said school buses are being used to transport people to Centennial Hall from area schools. What businesses have not been told is that the prizes will be used to draw people to a six-day religious revival.
Camera store operator Art Sutch was approached to donate a camera and related gear, but he never committed. Still, Juneau Fest organizers used his business name in at least one radio interview touting the support of local businesses.
"In this day and age, you gotta watch what you're doing," Sutch said.   "I was thankful the neighbors Googled them. Yeah, I don't know what to say other than just beware."
Photographer and gallery owner Daniel Buckscott said he donated two canvases worth about $300 each. They were pictures of a polar bear and a sunrise at Auke Lake.
"And right as she was about to leave,"  Buckscott said, "she grabbed my shoulder and hand, and started praying.  The intensity of her praying was a little intense. And then she left."
Buckscott called the solicitation for donations "very deceptive."
Other Juneau businesses surveyed by KTOO confirmed that they were either approached under false pretenses or not told the whole story.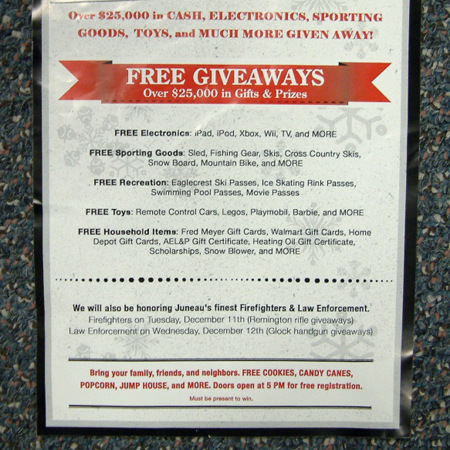 Western Auto and Marine Manager John Weedman said Juneau Fest organizers were persistent in soliciting donated goods.
He said their pitch to "lift up everybody's spirits during the holiday season" seemed "sketchy from the get-go."
Fred Meyer cards are listed on the Juneau Fest posters as one of the giveaways. But local store director Ken Antcliff said he did not donate the cards.
Store policy includes contributing to local schools, children's activities, or charities alleviating hunger, but avoiding political or religious causes. In this case, Antcliff said he traced the tax exempt identification number to a local church.
"It's going to be an epic event," said Sam Dalin, pastor of Juneau's River of Glory Church.
Dalin is paying $7,870 to rent Centennial Hall for six days, clearly identified in the facility use agreement as 'Church Meetings.'
"Just six nights of celebrating the spirit of Christmas and keeping Christ in Christmas, singing Christmas carols, (and) Christmas songs," Dalin said.
"That's what I believe spirit Christmas is. That's what I share with people. And the thing just kind of exploded," he said.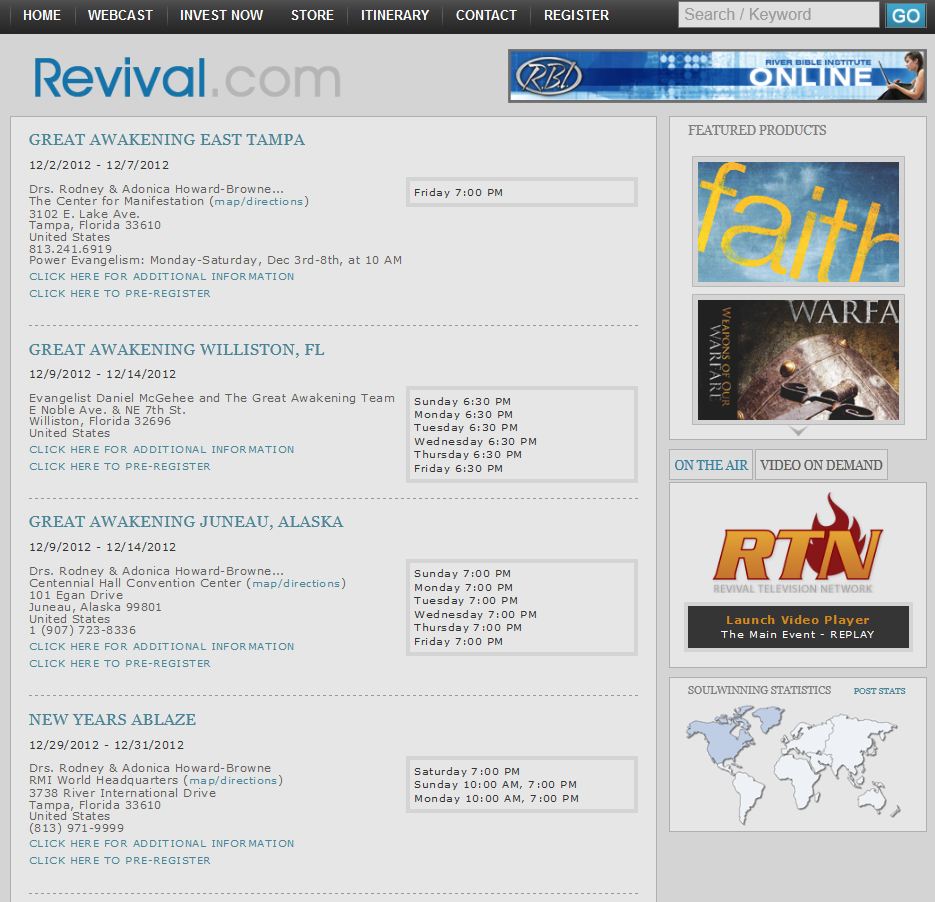 Dalin has been promoting the event while identifying himself as chaplain for the Juneau Police Department and Capital City Fire and Rescue. Representatives for both agencies said they are not involved.
"I didn't know it was a problem to anybody and anybody would think that I'm trying to do anything underneath the table or behind closed doors,"  Dalin said. "I have two titles. I am a chaplain and I am a pastor."
Dalin writes on his church website that he has been friends with Rodney Howard-Browne for more than twenty years. Howard-Browne runs Revival Ministries International, an evangelistic operation based in Tampa, Florida. Juneau Fest 2012 is labeled on the website Revival.com as just another stop on Howard-Browne's Great Awakening Tour.
Evangelists Christopher and Victoria McKaskle state in a newsletter that Junea (sic) will feature a new strategy by Pastor Rodney:
"We will draw the unsaved in using prizes and giveaways. Then, we will preach the gospel and see the power of God fall on the unsaved," McKaskle's write.

(The McKaskles took down the November newsletter from their website on Friday, but it can still be viewed by clicking here.)
The strategy, said Seattle Pacific University theology professor Priscilla Pope-Levison, skews the gospel message.
"So, the people don't become Christians because they believe the message, but because they want whatever's promised," she said.
Pope-Levison said proselytizing, or presenting a message with a promised material reward, is often viewed as suspicious by the general public.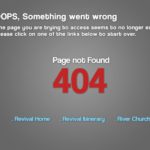 "There's a power dynamic then that's introduced. This has really come into play in mission theory where missionaries would go into foreign fields and they would promise something," she said.  "And the pejorative term that has arisen for this is 'Rice Christians.' "
Pope-Levison is concerned that people coming to the event are not being told what it is. She also describes how the organizers have approached local businesses as "a sketchy and potentially damaging practice."
"I think it's wrong. I think it's really dangerous. So much of society is skeptical of Christianity. And rightly so. Christians are considered hypocritical. I really do believe in the importance of evangelism," said Pope-Levison, who is also an ordained Methodist minister.
"For me, it's all about integrity and being as honest as one possibly can. I would never affirm a strategy that was not as transparent as possible," she said.
Pope-Levison says the South African-born Rodney Howard-Browne has been associated with the "Holy Laughter" movement in which someone is seemingly over taken by the Holy Spirit.
In a YouTube video, Howard-Browne and revival participants erupt in extended laughter or dance after a man tells of being healed.
Howard-Browne had this explanation on WSTK-TV's "It's Supernatural" program, also available on YouTube.
"So what you are seeing and the people are seeing is an outpouring of the spirit of God into the hearts of people, causing an overflow of God's joy, bringing refreshing, bringing restoration, healing broken hearts," said Howard-Browne in response to a question by program host Sid Roth.
It is not known if Holy Laughter will be part of Juneau Fest 2012. During a recent interview, Sam Dalin seemed reluctant to explain everything happening at the event until he was asked about Howard-Browne's potential appearance and pressed about misleading solicitations to local businesses for donated items.
"I can apologize if they feel they've been misled. If they want to take their items off the table, they're more than welcome to," Dalin said.
Juneau photographer and gallery owner Daniel Buckscott said he's "definitely open to all walks of life and people's beliefs,"  but he doesn't want to be tied to an organization that's not upfront about its activities or standings on issues. He said Juneau Fest organizers' lack of transparency is frustrating, especially during the holiday giving season.
"I definitely learned to pay a little bit more attention in the future," Buckscott said, "which is unfortunate because there's a lot of great organizations in town that I enjoy supporting.  I'm always looking for new ways to help out the community."
For now, Buckscott said, he'll be asking for his pictures back.
Click here to see pictures from the Great Awakening Tour/Juneau Fest events that have been posted by Revival Ministries International.
Click here to view a copy of the Centennial Hall Convention Center Use Agreement that was obtained by a public records request. Pages that include copies of receipts issued by the CBJ and checks drawn on an account used by the River of Glory Church were omitted from our web posting because of privacy concerns.
Click here to see the November 2012 newsletter by evangelists Christopher and Victoria McKaskle that explains the new strategy for the Junea (sic) stop on the Great Awakening Tour (GAT). In the newsletter, the couple from Mango, Florida is also soliciting "love gifts" of $850 for airfare and $300 for special winter gear for each of them.