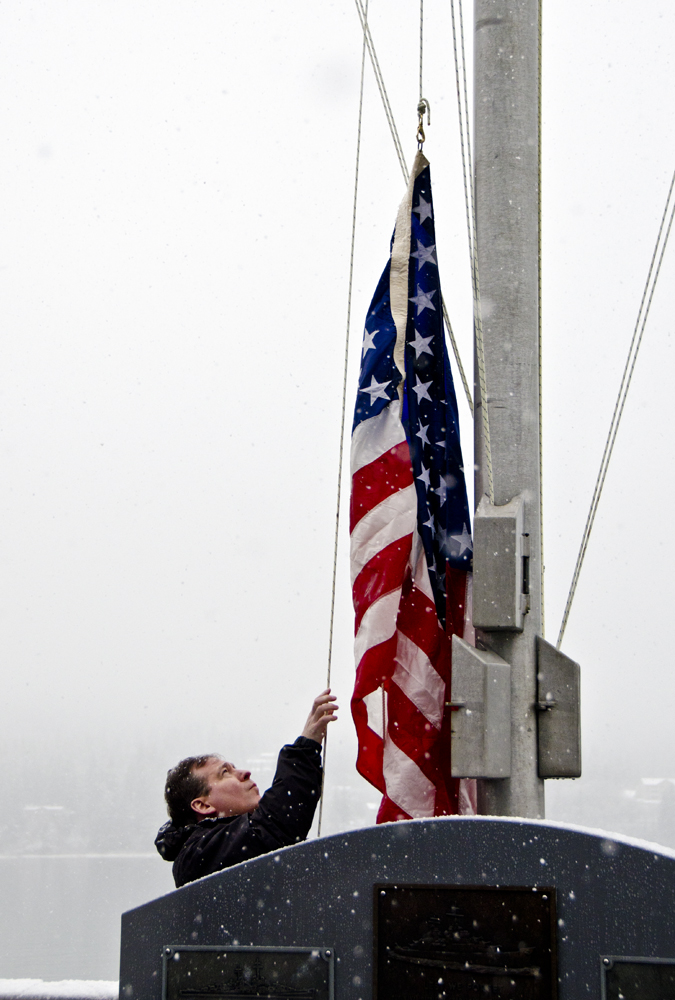 A new memorial was dedicated on the waterfront on Tuesday to commemorate those who lost their lives aboard the U.S.S. Juneau seventy years ago.
The new memorial still retains the original plaques and flag standard of the old memorial. But it's shaped differently and located near the south end of the Seawalk.
The previous memorial — built in 1987 near where the new Visitors Center is located – visibly suffered from the elements.
Some of the sounds and voices from Tuesday's rededication of the U.S.S. Juneau Memorial included the Juneau Community Band, CBJ Port Director Carl Uchytil, an invocation by Lieutenant Colonel Pat Travers of the U.S. Air Force Reserve and who is also pastor of Saint Paul's Church, CBJ Port Director Gary Gillette, U.S. Navy Petty Officer Gregory Cazemier, Assemblymember Randy Wanamaker, and trumpeter Dave Hurlbut.
Six-hundred and 87 sailors, including the five Sullivan brothers, died when the light cruiser U.S.S. Juneau was sunk during the naval battle of Guadalcanal.
Four sailors – mostly medics and pharmacists by training – were transferred from the Juneau to the cruiser San Francisco before the Juneau was sunk.
Out of the estimated 115 sailors who initially survived the explosion and sinking of the Juneau, only ten sailors remained when they were rescued eight days later. They rest had succumbed to sharks and exposure.
The Department of the Navy's Naval Historical Center lists two of the ten survivors as Signalman First Class Lester Eugene Zook and Chief Gunner's Mate George Imari Mantere.
Albert Shaw of Juneau was a nephew of Mantere. Shaw says Mantere came up to Juneau for the 1987 dedication of the original memorial. We talked to him about his uncle as we hustled from the new memorial site to a reception at the Visitors Center.
[vimeo 53978266 w=500 h=303]