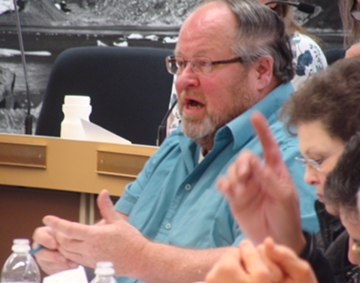 Juneau Mayor Merrill Sanford says the CBJ Assembly made good progress Saturday at its annual goal setting retreat. But he expects at least one more meeting before the annual list of Assembly and staff priorities for the coming year is finalized.
"I think we got a bunch of different topics addressed out there," Sanford said. "There's a few things that we have to get more in-depth to. And what we'll do is get this all organized and typed up and clean it up for us."
As expected, many of the goals on the initial list are longstanding Assembly priorities, such as housing, economic development, Juneau's role as Capital City, and solid waste.
Assembly members worked with facilitator Scott Miller of the McDowell Group this year to try and focus the discussion. The result was a list of so-called "big picture" goals, each of which includes a sub-list of specific plans or actions. For instance, under the "Housing" priority one of the specific action items calls for convening a workshop with developers, property owners, and banks to find out what they see as barriers to new home-building in Juneau.
Sanford thinks many of the specific priorities can be accomplished in the near term.
"Almost every single one of them have been worked on for the past number of years," said Sanford. "And I think what we're trying to do is facilitate the different subcommittees and committees that have worked on all this stuff and getting that information to us as the Assembly and then making decisions on what our next steps are."
City Manager Kim Kiefer thought the dialog was helpful. But she urged the Assembly not to lose sight of those over-arching goals. She reminded members that while they are elected to serve three-year terms, the average CBJ employee works for the city about ten years.
"What's really helpful is to know that there's long-term goals that go beyond that three years," said Kiefer. "What's the ten-year? What's the fifteen-year? What's the twenty-year? Each Assembly will take a different tact to get to that point, but that we're keeping that ten or fifteen year plan out there."
Sanford said he would like the Assembly to finalize its goals in the next month or two, but said it would take as long as it needs to get it right. He acknowledged that it could be difficult to work on during the upcoming holidays.