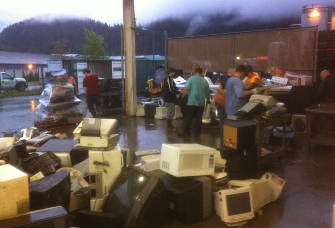 Fifteen tons – that's how much the pile of old TVs, computers and other electronics weighed at the end of the City and Borough of Juneau's trial e-waste event last night (Wednesday).
Public Works Director Kirk Duncan says traffic was steady through the Lemon Creek drop off area as hundreds of residents rid themselves of old junk.
"We saw some stuff that I hadn't seen in a long time," Duncan said. "Some original Apple computers, the one piece computers, then some huge TVs – just all kinds of different stuff."
Some electronics components contain toxic PCBs and metals that can leach into the environment. So Duncan says the city and landfill operator Waste Management try to keep them out of the dump.
In the past the city has accepted one electronic item per household at its regular hazardous waste disposal days. But Duncan says this is the first time the CBJ has held a day specifically for those items.
"We'll see how it affects the household hazardous waste program, and then we'll talk about whether we'll have the electronic waste event, whether we'll do it once a year, twice a year, whatever," Duncan said. "So we're evaluating that at this point in time."
The city did not charge a drop off fee. The fifteen tons worth of material will be sent to Total Reclaim, a Seattle-based company that specializes in the disposal of electronic waste.