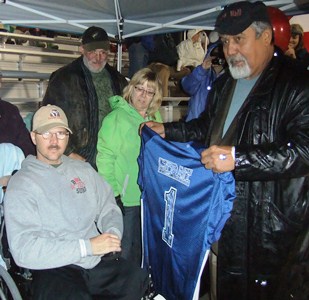 The Thunder Mountain Falcons football team has raised about $3,500 dollars for a former Juneau resident severely wounded in Afghanistan.
All of the proceeds from Saturday's game against the Kodiak Bears have been donated to help build a "smart home" for Staff Sgt. Tom McRae, a U.S. Marine who was injured January 16th when an explosive device detonated under him. McRae lost an arm, both his legs and an eye in the accident.
Peregrine Booster Club member Jenny Smith says all sales from the gate, concession stand, Falcon clothing and gear, and a silent auction have been donated to the home project for McRae and his family. They live in North Carolina.
McRae was in the stands for the game, which the Falcons won by a score of 14 to 13. He and his family remained dry under a special tent, as a steady rain – sometimes heavy – drenched the fans and players, and made it hard to hang onto the football.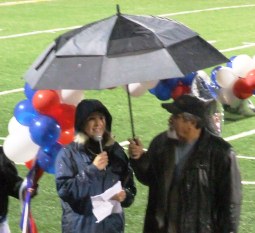 During halftime, Juneau Rep. Cathy Munoz and Haines Rep. Bill Thomas – a Vietnam veteran — introduced McRae and presented him with a Falcons football jersey sporting the number one. Then the Falcons football team saluted McRae before stepping back onto the field for the second half.
McRae was born and raised in Juneau and played youth football. He graduated from Juneau-Douglas High School in 2001 and enlisted in the Marine Corps right after graduation. He served three tours of duty in Iraq and two in Afghanistan.
Donations can still be made to the smart home project. A Smart Home is a custom designed, fully accessible home built to address the individual needs of severely injured members of the U.S. military.
The program is through Building for America's Bravest, a charity of the Stephen Siller Tunnel to Towers Foundation. Donations can be made online by clicking on McRae's name.
Checks also can be made out and mailed to Tunnel to Towers Foundation, 2361 Hylan Blvd., Staten Island, New York 10306. Write Staff Sgt. Thomas McRae in the memo line.
Other football scores
In other football news over the weekend, the Juneau-Douglas Crimson Bears beat the Colony Knights also by one point. The score from the game played in Palmer was 21 to 20.