The Alaska Department of Labor says senior citizens will make up 17 percent of the state's population by the year 2030. But in 1980, seniors comprised just 3 percent.
While Alaska has seen a shift to an older population since 1990, it's described as a "younger / older" group than the Lower 48 states, according to state Demographer Eddie Hunsinger.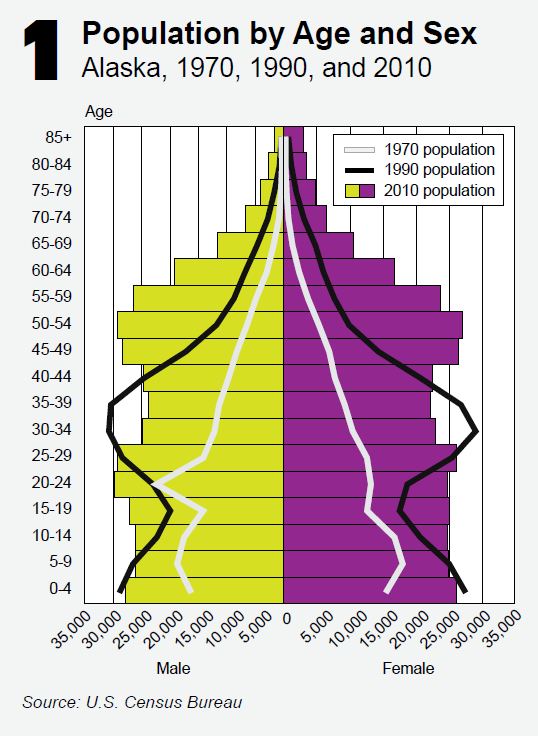 "A much larger part are 65 to 69 rather than 70 plus and that does contribute to the higher percent of workers in the 65-plus population in Alaska. The U.S. as a whole's 65-plus labor force participation is only about 16 percent, but for Alaska it's about 22 percent and that's because we have that sort of younger 65-plus population," he says.
Alaska seniors also have higher incomes than their Lower 48 counterparts. The annual median household income between 2006 and 2010 was more than $66,500 in Alaska and just under $52,000 outside the state.
Hunsinger says people tend to move less as they get older, and migration out of the state remains higher for younger age groups than older. Permanent Fund Dividend data shows that only about 4 percent of those 65 and older leave the state each year, compared to 7 percent of younger people.
As KTOO has reported before, the largest number of senior citizens is in Southeast Alaska, a trend, Hunsinger says, that's expected to continue.
"A big reason that Southeast has a large population age 65 plus is that it's had lower rates of in-migration at younger ages," he says. "So the population has sort of aged and not as many young people have come into the population."
Health care has already started to expand in Alaska, but not enough to handle the aging baby boomers that start turning 85 in the year 2030. That's the group to plan for, Hunsinger says.
An economic summary of aging in Alaska is the focus of this month's Alaska Economic Trends magazine, published by the Alaska Department of Labor and Workforce Development.