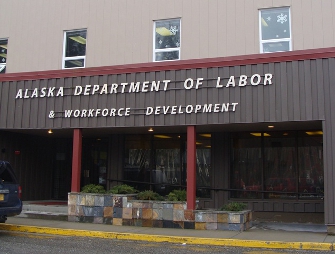 The State of Alaska will partially foot the bill for yet another renovation project at the Plywood Palace.
The state Department of Labor building in Juneau continues to be plagued by mold and air quality issues, despite several rounds of remediation and remodeling over the past decade.
Labor Commissioner Dianne Blumer last week sent an email to employees, letting them know construction crews would soon begin staging equipment at the building.
The state still has not awarded a new lease to the building's owners. But when it does, the cost of improvements will be amortized over the first five years of the agreement.
KTOO's Casey Kelly has more.
It's not known when the renovations will get underway, or even what will be involved. A spokesperson for the Labor building's owners, Juneau I, LLC, could not be reached for comment.
State Chief Procurement Officer Vern Jones says Juneau I was planning some work before the state's recent announcement of a tentative lease agreement, which will require certain repairs.
"They've told us previously and included in their offer some replacement of the HVAC system, including the rooftop air handling units, the heating units, ducting," says Jones. "Remediation of mold — they're going to basically remove the sheet rock and the inside surfaces of the walls and remediate where necessary there."
Earlier this year, the state walked away from mediated negotiations for a lease extension, and sought proposals for new office space for the department's 300-plus Juneau-based employees. Jones says there were only four responses – less than state officials had expected. Juneau I successfully bid to keep about 260 employees at the current facility, while Salmon Creek, LLC won a bid to house 78 workers at the Mendenhall Mall.
Despite the Labor building's history of problems, Jones says the state was unable to exclude Juneau I from the process.
"Our procurement rules and laws require us to allow free and open competition," he says. "And just because a facility may have a condition doesn't mean it can't be repaired or remediated or fixed somehow. A lot of times a building owner will completely gut a building and by the time they're done it will be completely different and essentially new."
Representative Beth Kerttula and the rest of Juneau's legislative delegation continue to press the Parnell administration for a new state-owned office complex.
"I would rather see a new building altogether," Kerttula says. "I have my doubts as to whether this building will ever come up mold free."
Kerttula says the delegation is most concerned about the many state employees who say the Labor building is causing their chronic health problems.
"I am very hopeful that anyone who does have these health issues will be able to be moved out of that building," she says.
Jones says Juneau I believes the building can be renovated while employees continue to work there.
The state is still negotiating floor plans and logistics with both Juneau I and Salmon Creek, and he expects to issue a final notice of award in the coming weeks.
What's not being negotiated, he says, are the financial terms of the two leases. In both cases, the state will pay more during the initial five-year term to help the landlords with the cost of renovations and repairs needed to comply with state requirements. For the Labor building that means an extra $1.36 per square foot every month, or nearly $4-million over five years.
Jones says the state is only agreeing to a five-year initial term in order to have more flexibility in the future. In the meantime, he says Administration Commissioner Becky Hultberg is keeping all options for state office space on the table, including a new building.