A month-long series of hearings on Ballot Measure 2 wrapped up in the Capital City yesterday (Thursday).
Some Juneau residents and public officials were heavily involved in getting the initiative to restore the Alaska Coastal Management Program on the August primary ballot, and are now trying to convince voters to pass it. Other residents have joined efforts opposing the measure.
KTOO's Casey Kelly has more.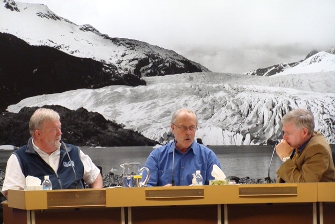 Juneau Mayor Bruce Botelho says it's unfortunate that Alaska citizens even have to vote on whether to have a coastal management program. He notes that in 2011, 55 of 60 state lawmakers voted for some form of coastal management, but the legislature still failed to reauthorize it.
"The legislature, left to its own devices, has had three regular sessions and two special sessions to deal with it," Botelho says. "And it's failed to do so."
Botelho chairs the Alaska Sea Party, the group responsible for getting Measure 2 on the ballot. He says coastal management is good for the state, good for developers, and most of all good for local communities.
"Our initiative opts for greater community involvement in the formulation of statewide policy," says Botelho.
Like previous versions of the Alaska Coastal Management Program, Measure 2 allows communities to develop local standards for coastal development, as long as they conform to statewide regulations.
It also restores a coastal policy board appointed by the governor, and participation by the state Department of Environmental Conservation in the coastal management review process. Both were features of the Alaska Coastal Management Program prior to changes made by the Murkowski administration.
Former DEC Commissioner and Vote No on 2 co-chair Kurt Fredriksson says Measure 2 is a major step backwards.
"Ballot Measure 2 returns Alaska to a time when there was no agreement on who best represents the interests of state and local communities in resource development decisions," Fredriksson says. "No agreement on how state permits should be coordinated; no agreement on how long it should take to make a coastal permit decision."
Fredriksson says that uncertainty invites legal challenges.
"That will frustrate the needs of coastal communities and delay or tie up resource development projects in the courts for years," says Fredriksson.
The coastal management initiative is the first to fall under a 2010 state law requiring eight hearings – at least two in each judicial district – on citizen sponsored legislation up to 30 days before Election Day.
Thursday's hearing was moderated by Lieutenant Governor Mead Treadwell, whose office oversees state elections. At one point, Treadwell asked Botelho – a former state Attorney General – whether Measure 2, if it passes, could be amended by the legislature and to what extent.
"The answer is yes," Botelho said. "The legislature has the power to amend at any time."
The hearing also featured public testimony. Mike Satre Executive Director of the Council of Alaska Producers disputed the contention by Measure 2 supporters that the initiative is pro-development.
"I think we can all agree that coastal zone management is pro-community," Satre said. "But if this was pro-development why would the Council of Alaska Producers, the Alaska Oil and Gas Association, the Resource Development Council, the Alaska Miners Association, the Alaska Cruise Association, the Association of General Contractors and the Alaska Forest Association all oppose it?"
But Dave Hanna – owner of Alaska Concrete Casting in Juneau – said Measure 2 would have the most benefit for small businesses and individuals.
"For about 32 years now I've been the lead person on planning, permitting and developing various small projects in Alaska that went through the coastal zone policy program," Hanna said. "I think I can speak with some authority on how effective a tool it is for development. For a small developer it's almost imperative."
The state-sponsored hearings may be over, but the debate over Measure 2 will continue for the next month. August 28th is primary Election Day, and both sides are sure to ramp up their campaign.