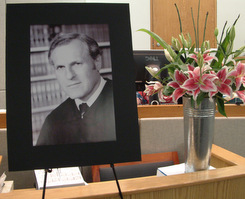 A Juneau man who left who an indelible mark on the Capital City and the Alaska judicial system was remembered on Tuesday.
The entire Alaska Supreme Court led the memorial tribute for Robert Boochever at the Dimond Courthouse.
Former Governor Bill Sheffield, wife of the late Justice Jay Rabinowitz, past and present lawmakers and judges, clerks, and lawyers filled a courtroom for the service.
Family and former colleagues remembered Boochever's sense of humor, kindness, compassion, and fairness.
Linda Boochever Schwartz told the story of her father taking on a client while working as a practicing attorney. The mother of four children wanted a quick end to an abusive relationship. But Boochever went the extra mile to get her a fair divorce settlement. He only billed the woman $25.
"It was just the way he lived his life," said Schwartz. "He would do things like that and never think anything of it because it was just the right thing to do."
Senior Justice Warren Matthews remembered being appointed to the Alaska Supreme Court under Chief Justice Boochever. The number of appellate cases was exploding as the Trans-Alaska oil pipeline was being constructed.
"I enjoyed serving with Bob," said Matthews. "He cared about the law, and he cared about its effects on people and its effects on our democracy."
Matthews credited Boochever for helping create the Alaska Court of Appeals, an appellate court that deals exclusively with criminal cases. He also highlighted at length Boochever's opinion in the Glass case. That's the basis for why officers now must always apply for a warrant from a judge before they record your conversations as evidence in a criminal case.
Boochever wrote the concurrence in Ravin, the precedent-setting case on Alaskans' right to privacy in the home, and wrote the opinion in the pivotal Aguchak case. That involved a Scammon Bay couple who were denied their due process rights when a department store filed a small claims action over an unpaid bill, rather than in the rural court district in which the couple resided.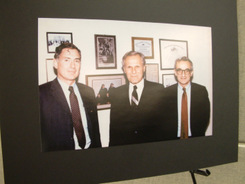 Supreme Court Justice Craig Stowers worked as a clerk for Boochever when he was a Juneau-based judge for the Ninth Circuit. Stowers recalled that Boochever had been 'horrified' by death penalty cases that came before the court and he referred to them as 'barbaric and that there was no place for it in a civilized society.'
"I could just see his sense of justice and his view of the wrongness of that," said Stowers. "It was just a shining light and it was always there."
Other speakers also commented on Boochever's service outside of the courtroom. It ranged from planning a new ski area to consolidation of the City and Borough of Juneau, site selection for a new University of Alaska Southeast, and chairing the then-new Planning Commission. Boochever also actively fought efforts to move the capital from Juneau.
Boochever died last October in California at the age of 94.
He arrived in Juneau with his wife in 1946 to start work as federal prosecutor. He later entered private practice, served on the Alaska Supreme Court, and was the first Alaskan appointed to the Ninth Circuit Court of Appeals, the federal appeals court for western states that is second only to the U.S. Supreme Court.