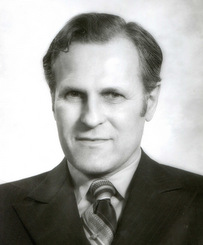 Members of the Alaska Court System and Juneau legal community plan to remember one of Juneau's most notable jurists during events on Tuesday.
Robert Boochever passed away last October in Pasadena, California at the age of 94. He most recently served as judge on the Ninth Circuit Court of Appeals. Before his appointment to the federal appeals court, Boochever served on the Alaska Supreme Court, including serving a stint as chief justice. Earlier, he was a partner in the firm Faulkner, Banfield, Boochever, and Doogan. He initially ended up in Juneau working as an assistant U.S Attorney after serving in the U.S. Army in Newfoundland and Georgia during World War II.
Southeast court administrator Neil Nesheim says events will include a memorial tribute in the Alaska Supreme Court courtroom at the Dimond Courthouse on Tuesday morning. That will be followed by a lunch at the Baranof Hotel.
"It all came about because Boochever was fairly well known in Southeast Alaska and made a name for himself," said Nesheim.
Among the Alaska Court System's archives is an oral history recorded in 1982. Boochever told interviewer Pam Cravez primarily about his early career before being appointed to the bench. He talks about arriving in Juneau in January 1946 after Bob Bartlett interviewed him for a job as an assistant U.S. attorney. Navy veteran Patrick Gilmore was the new U.S. attorney for Alaska. He also arrived in Juneau about the same time. Back when Alaska was still a territory, federal attorneys prosecuted those crimes that are now usually handled by state District Attorneys.
(This oral history sounds like it was recorded on an old style audio cassette machine. There's quite a bit of noise and the voices change pitch and tempo as if the tape was changing speeds. We've tried to adjust for a few of the imperfections.)
"At that time, there was an unsolved murder that had occurred in what was one of the better residential areas on the hill…"
Boochever said the conviction that he won in that case was later overturned by the Ninth Circuit Court of Appeals. He later assisted in the retrial which resulted in another conviction.
After roughly two years as a federal prosecutor, Boochever said he was hired by private Juneau attorneys Norman Banfield and Bert Faulkner to help them out. He says they used to bill their clients about $10 an hour. He stayed with the firm for nearly 25-years – becoming a partner – until he was appointed to the Alaska Supreme Court.
Boochever was asked why he ended up staying in Juneau all that time.
"I always liked it. I'm an outdoor person. I love the beauty of it," said Boochever. "I enjoy living in a friendly, smaller community where you don't have long commutes and some of the problems with the big cities."
Since this interview was recorded about ten years after he was appointed to the Alaska Supreme Court and about two years after his appointment to the Ninth Circuit Court of Appeals, its unlikely Boochever would've been able or willing to talk about any of the cases that he and his colleagues considered while on the bench.
While with the Alaska Supreme Court, Boochever wrote the concurrence opinion in Ravin, the precedent-setting case on Alaskans' right to privacy in the home.
Boochever also wrote the opinion in the Aguchak case in which a Scammon Bay couple were denied their due process rights. A department store filed a small claims action over an unpaid bill for a snowmachine and freezer in Anchorage, rather than in the rural court district in which the couple resided.
There are also the Glass opinions. Those are the basis for why officers now must always apply for a warrant from a judge before they record your conversations as evidence in a criminal case.
Boochever was the first Alaskan named to the San Francisco-based Ninth Circuit in 1980. About six years later he left Juneau for Pasadena and served as senior judge with the court.
Boochever and his wife Connie were very busy with local civic and community activities, ranging from the consolidation of the City and Borough of Juneau governments to drafting of a comprehensive plan, chairman of the first planning commission, even helping to create a road for a new ski area. They were also involved in various other organizations in Juneau and patrons of the local arts.
The Boochevers had four children and at least eleven grandchildren. Connie passed away in 1999.
Legislation is currently pending in Congress to name the courtroom in the Juneau Federal Building after Boochever.
The event at the Dimond Courthouse starts at 11:00 Tuesday morning and the lunch at the Baranof starts at noon. There will be a $20 admission for the lunch.