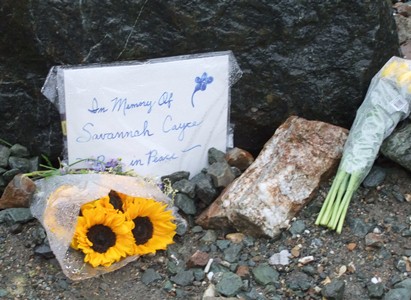 The CBJ Parks and Recreation Advisory Committee will review Auke Lake regulations in the wake of an inner tube / jet ski collision that resulted in the death of a Juneau teenager.
Parks and Recreation Director Brent Fischer says the board has been asked to review discussions that led to current regulations as well as the ordinance regulating motorized use.
Sixteen- year-old Savannah Cayce died Monday of a severe head injury sustained in Saturday's accident on the lake. She and another teen were being pulled in an inner tube by a jet ski. Juneau police say the inner tube swung into another jet ski.
Since the accident, Juneau officials, including Mayor Bruce Botelho and Assembly members, have been hearing from concerned citizens calling for safety improvements and better enforcement of motorized use of the lake.
"There have been concerns about the adequacy of our signage and delineation of the motorized / non-motorized delineations of the lake," Botelho said at Monday's Assembly meeting.
A large sign and map at the Auke Lake boat launch off Glacier Highway outline hours of operation and restrictions.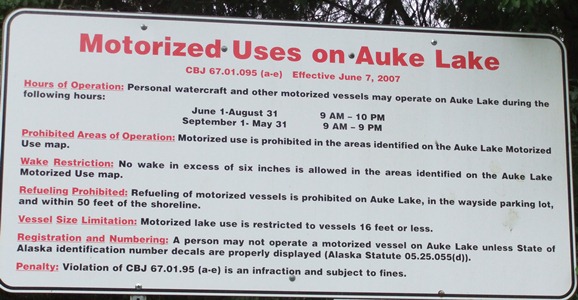 The lake itself is owned by the state of Alaska; the city oversees activity, guided by the 2008 Auke Lake Wayside Master Plan.
Fischer says he doesn't envision any changes to come from the PRAC's review, but he's open to new safety regulations. As for enforcement, he relies on residents who live along the lake shore.
"We just don't have the resources to go out and monitor the lake so I know that once we put the buoys on if there was anything negative the neighbors usually are pretty good at letting us know," he said.
Current regulations limit the size of motor boats to 16 feet. A buoy line depicts the no wake zone and areas where motorized craft are prohibited.
Meanwhile, Savannah Cayce is being remembered as a kid that always had a smile on her face and a lot of energy. She would be a junior in the fall at Juneau Douglas High School, where she was a member of the swim team.
JDHS swim coach Katherine Millhorn calls her an "awesome freestyler." She says Cayce's death will definitely make the upcoming season a challenge as other swimmers try to stay positive.
"As a coaching staff we're acutely aware of that and we're going to do the best that we can to help the kids get through that mourning and grieving phase," Millhorn said.
As a freshman and sophomore, Cayce had already competed in statewide swim meets. She also was a member of Glacier Swim Club.
JDHS is offering counseling to students grieving the loss of their friend. Students should call the JDHS office at 523-1501.