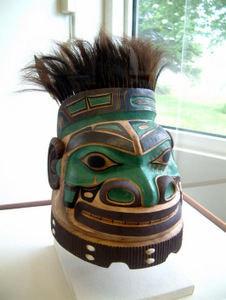 One of the early events of Celebration 2012 featured the announcement of winners of the juried art competition and unveiling of a month-long exhibit of their work.
The event, which culminated during Wednesday evening's festivities, is organized and sponsored by the Sealaska Heritage Institute. It's intended to encourage creation and development of Southeast Alaska Native art forms.
This year, the former categories of traditional and contemporary Native art were replaced by Customary and Customary Inspired Northwest Coast Art.
In the Customary Art category, Archie Cavanaugh won first place with his Eagle Man Mask, Sonya Koenig-Johnson's Spruce Root Hat came in second, and third place went to Ruby Hughes for her vest titled Woodworm Woman.
In the Customary Inspired Art category, Harmony Hoss won first place for her Beaver Purse, Clarissa Rizal was second for her Argillite Totem, and Shgen DooTan George took third with her Woven Octopus Bag.
Cash prizes of a $1,000, $750, and $500 were awarded to the top three in each category.
Best of show award of $1,500 went to Arthur Nelson for his Raven Bowl.
Jurors included master carver Nathan Jackson who judged Customary Art, and art scholar Peter Corey who judged Customary Inspired Art.
Thirty-two pieces by 21 artists are on display at the Juneau Arts and Culture Center through the end of June.
We'll have an in-depth look at some of the art next week on KTOO.