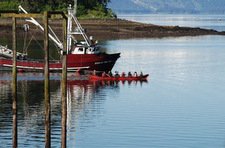 About 90 Southeast Alaskans are making their way to Celebration 2012 by traditional canoe.
The paddlers range in age from 10 to 70 and come from Wrangell, Hydaburg, Juneau, Sitka, Kake, Angoon and Hoonah.
The Paddle to Celebration journey is expected to arrive at Juneau's Auke Recreation area about noon on Wednesday.
Boats left from Kake on Saturday, Angoon on Sunday, and Hoonah on Monday.
Norval Nelson, on the F/V Star of the Sea, is operating one of three safety boats accompanying the canoes. He's backing up a group from Hoonah.
"They traveled through Icy Straits and they crossed Chatham Straits into Funter Bay and reported up there and greeted the rest of the group that showed up from Angoon. They left there Sunday morning, traveled along and stayed the night in a cove called Square Cove and then Monday joined us. We were greeted by a large pod of killer whales," Nelson says.
He says the weather and seas have mostly cooperated.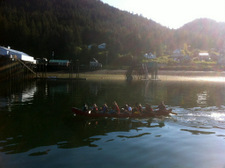 Nelson calls it a healthy, spiritual journey, which includes people of Tlingit, Haida, Aleut, Filipino and Norwegian descent.
Celebration is Southeast Alaska's largest cultural gathering, held in Juneau every two years. It starts Thursday and runs through Saturday.