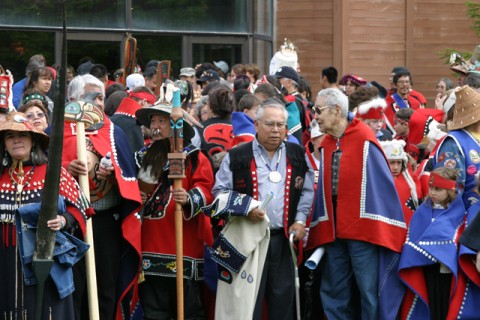 Every Celebration, a different dance group leads the grand entrance parade into Juneau's Centennial Hall. Dozens more follow in a procession that fills the street for several blocks and sets the stage for the every-other-year event, which began three decades ago.
Celebration 2012's grand entrance will be led by the Xudzidaa Kwáan Dancers of Angoon. More than 50 other groups from Alaska, Canada and the Lower-48 will take the stage during the Thursday-through-Saturday event, which is Southeast Alaska's largest Native cultural gathering.
It's organized by the Sealaska Heritage Institute, the cultural arm of Southeast's regional Native corporation.
"Celebration is a time when we come together as Tlingit, Haida and Tsimshian people to celebrate the survival of our cultures," said institute president Rosita Worl, in a press release.
But it's not all about song and dance.
There's a Native Artists Market, showcasing Tlingit, Haida and Tsimshian traditions. The market will be held this year in a new, outdoor venue, with more space for a wider variety of art and contemporary goods.
"We want to be able to accommodate as many Native artists as we can because developing Juneau as a Native art center is one of our long-term goals," Worl said.
Related events include a pre-celebration artists' gathering and juried show, plus films, lectures and demonstrations. (See the schedule.)
Then there are the traditional food events, such as the soapberry contest. Cooks from Alaska and the Yukon use hand- and electric-mixers to whip up the frothy treat.
There's also a dried black seaweed contest, as well as an oyster festival focusing attention on Native-owned shellfish farms.
Other events include a toddler regalia revue, plus workshops on formline design and song-writing.
But for many, it's all about the singing and dancing, which will bring about 2,000 people to the stage.
Celebration 2012's theme is "Strengthen Yourself." It's spelled Ayanaltseenáa in Tlingit, Án hl is daguyáa in Haida and Lip sha gotgyednshm in Tsimshian.
Up to 7,000 thousand people are expected to attend. For those who can't, the festivities will be broadcast on 360 North, the cable and internet channel that also broadcasts Gavel Alaska legislative TV coverage.
Schedules and other details are available through the sponsor's website. There is an entrance fee.
Hear earlier reports and watch slideshows from other Celebrations:
Celebration begins with grand entrance procession
Sights and sounds of Celebration