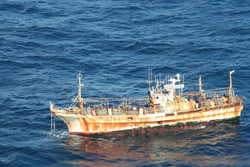 The U.S. Coast Guard on Thursday will attempt to sink a Japanese fishing vessel that washed out to sea after last year's tsunami.
The cutter Anacapa Wednesday night arrived on the scene of the drifting Ryou-Un Maru, now about 170-miles southwest of Sitka.
"They have some mounted weapons on board so they will fire the weapons into the vessel and try to hole it sufficiently to sink it," says Lt. Sarah Morin, command duty officer for the Coast Guard's 17th District headquartered in Juneau.
After being spotted in Canadian waters last month, the Ryou-Un Maru has been drifting in a northerly direction. It entered U.S. waters on Saturday.
"They are scuttling it now instead of waiting because there is concern for pollution and increased hazard to navigation if it comes closer to shore," Morin says.
The ocean is about 3,600 feet deep in that location. Morin says any diesel fuel remaining on-board the drifting vessel would likely dissipate quickly.
"Having a diesel spill out at sea, where there's significant wave and wind action to dissipate it quickly, is significantly less damaging to the environment than having a diesel spill drift into inside waters here in Southeast Alaska, or into any of the harbors," she says. "A confined spill there could have a more significant impact on the environment and the wildlife."
It's unclear exactly how much fuel there is on board.
Morin says the owner has surrendered the vessel and the Japanese government has consented to the sinking.
"The U.S. Coast Guard communicated extensively with the Canadian Coast Guard when this was in the border waters and once it was firmly established in our EEZ (Exclusive Economic Zone), the U.S. Coast Guard coordinated with the Japanese government before making the decision to sink the vessel," she says.
According to the website GlobalSecurity.org as well as information from the Coast Guard and contractor Bollinger Shipyards, most variants of the 110-foot Island class cutter are usually equipped with a 25-millimeter machine gun mounted in the bow and at least two .50 caliber machine guns.
The cutter Anacapa is based out of Petersburg.